Rachel Jackson Achieves Master Pro 10 Rank At LifeVantage
October 31, 2019
By Team Business For Home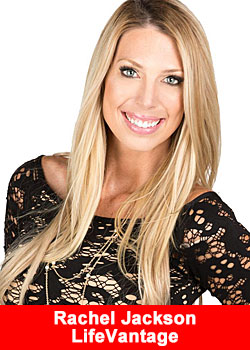 Tara Wilson, the enroller of Rachel Jackson commented upon Rachel's achievement on her facebook:
"Words cannot even BEGIN to express how excited, proud, and honored I am to announce LIfeVantage's NEWEST MASTER PRO 10 Rachel Jackson!!!
The first one in over 5 years!  Four years ago, Rachel and I made – at the time a scary, exciting – yet for some – unpopular decision to take a huge leap of faith and join this INCREDIBLE company.
We saw it. The people. The science. The retention. The possibility. The culture. And it's better than we imagined! I've had the pleasure of working with this amazing woman for 8 1/2 years and nobody deserves this more!
Rachel is the epitome of a servant leader. She works tirelessly day in and day out to grow her team, mentor them, support them, give them tools, systems, guidance and above all, LOVE them! Everyone matters. Everything matters. Team Heart's fearless leader.
Despite some unbelievable hurdles thrown in her path over the past few years, she never stopped. Words won't ever do justice to how incredible this accomplishment is! This team is so amazing and this is a reflection of all of you! Your hard work, your commitment, your strength, your faith!
We've been around the world and back together and I look forward to many more years with this incredible friend! Love you Rachel and can't wait to spend the next 24 hours celebrating with you!!! Chris and I are over the moon for you!
Rachel Jackson says:
"Words fail to describe this incredible team achievement. Partnering with LifeVantage four years ago has been one of the smartest decisions of my life.

This company has richly provided us with compensation, rewards, community and memories that far outweigh my brain's comprehension.

LifeVantage is truly a "unicorn" of the industry: retention, timing and science-backed products.

Our tribe – Team Heart – has been the backbone of my journey these last few years. They've inspired me, pushed me, encouraged me, and gotten me through life's inevitable ups and downs. When we sought out to build simple systems and a heart-driven culture a couple of years ago, I always thought it would be special, but I had no idea that my business partners would become best friends and family. I bleed for them."
About LifeVantage
LifeVantage Corporation (Nasdaq: LFVN) is a pioneer in Nutrigenomics – a new science dedicated to biohacking the human aging code. The Company engages in the identification, research, development, and distribution of advanced nutrigenomic dietary supplements and skin and hair care products, including its scientifically-validated Protandim® product line, Omega+ and ProBio dietary supplements, its TrueScience® line of Nrf2-infused skin and hair care products, Petandim™ for Dogs, Axio® Smart Energy Drink mixes, and the PhysIQ™ Smart Weight Management System.
LifeVantage was founded in 2003 and is headquartered in Salt Lake City, Utah. For more information, visit www.lifevantage.com.