Casmire Okafor The First Double Diamond Distributor For Rain International In Africa
November 9, 2019
By Team Business For Home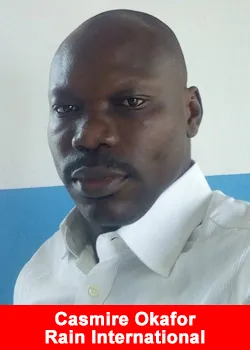 Casmire Okafor has recently been achieved the status of Double Diamond distributor for Rain International. He is the first person in Africa to achieve this – which is remarkable in itself.
He has come a long way from working for – basically – nothing, to making a few dollars per day, to – eventually – becoming Rain International's first Double Diamond distributor in Africa with 15,000 distributors and customers in over 20 counties.
However, it is even more remarkable when you consider his history.
Raised in a single-parent family, Casmire lost 7 years of his young life when he literally worked for nothing – even though that was not the agreement. After working as an apprentice for seven years, on a promise of a financial settlement afterwards, the person he worked for sold his businesses and left the country. Casmire was left with nothing – and no future, despite having worked tirelessly for seven years.
His mother helped him to raise enough money to go to Lagos, where he ended up working for 50 Naira per day (about $1.50), cleaning radios and TV sets. He was able to survive, but it was a dead end job. There was no future in it; no prospects of promotion, or of ever making more money from it.
He wanted more out of life, so he started looking for opportunities. He discovered the concept of network marketing. After entering into the MLM business arena, his life turned around. Yes, he made mistakes in his early years, but thanks to his mentors (and his willingness to work) he was eventually able to build a solid MLM business.
There was just one problem with his "solid business":
He built a massive team, but he was still not making really big money. He knew there had to be a better way, so he started doing research. He started studying leaders in network marketing, and the opportunities they promoted. Eventually, he came across Dino Nedelko – a successful distributor for Rain International, working from Slovenia.
Just like Nigeria, Slovenia is a mixture of challenges and opportunities – which meant that, if Dino could achieve success working from Slovenia, someone in Africa should be able to achieve success working from a country with challenges like – for instance – Nigeria.
He followed what Dino was doing for months – and watched his team grow. Eventually he contacted Dino, and joined Rain International.
Within one year, Casmire was making more from Rain International than he was making from his previous company (after 13 years' worth of work).
When one considers the fact that he reached this level only four months after achieving Diamond Elite distributor status, it just goes to show what can be achieved when network marketing is done right.
The reason Casmire was able to double his income in four months, was because of the successes of the people in his downline. In his team he now has people on Pearl Elite, Sapphire Elite, and Diamond Elite levels. By providing proper support and leadership to his team, he ensured their successes.
About Rain International
Rain International is the original creator of seed-based nutrition. Our experts have gone to the source of plant nutrition to formulate products proven to support healthy lives.
Rain International is more than the products we sell. From the beginning, we set out to make changes to improve the world around us starting with the health industry and moving beyond its borders into global sustainability, education initiatives, elevated lifestyles, and more.
We believe that the ultimate human experience we all crave is within everyone's reach, and we don't mind leading the way.
For more info please visit www.rainintl.com.