World Champion Seychelle Webster Fueled By Touchstone Essentials
November 15, 2019
By Team Business For Home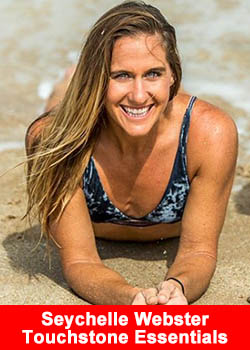 World champion stand up paddleboard (SUP) athlete Seychelle is no stranger to victory.
This Florida Keys native has racked up an impressive list of records, including the Guinness World Record for the greatest distance paddled in 24 hours and the "Fastest Paddler on Earth" female SUP title. After a meteoric rise in the sport in just a few years, she's now ranked number one in the world.
Another major win just got added as Seychelle took home first place in the 14' SUP category at the annual 31-mile endurance race "Chattajack" – for the third year in a row. Just finishing the race is considered a testament to athleticism, perseverance and grit. Of course, success doesn't come easy. Seychelle follows a custom training program that includes paddling, cross training, strength training, and recovery sessions.
"I put my body through a lot of physical and emotional stress. I travel eight months out of the year, I train twice a day, and I put a lot of pressure on myself to perform at the highest level of my sport.

I am so grateful to have found Touchstone Essentials to fuel my training and recovery so I can be at my peak for race day,"
explained Seychelle.
For replenishment, Seychelle uses Touchstone Essentials' Super Green Juice, a unique blend of 44 organic superfoods, probiotics, fiber and digestive enzymes and Organic Super Protein with 18g of muscle-building plant proteins plus energizing MCTs. Her go-to post workout smoothie includes Organic Super Protein and Super Green Juice, as well as banana, berries, and avocado to replace macro and micro-nutrients after a hard session.
Seychelle shared,
"Refueling, repairing, and restoring my body naturally is a priority for me. It's so nice to have found the products my body needs from a company I trust. Touchstone Essentials is definitely a valued player on my team. Only natural, organic supplements and hemp oil to keep me feeling good inside is a huge WIN in my books."
In a year that saw Seychelle bounce back after some tough injuries, she takes extra care to combat the temporary inflammation that accompanies tough training. For a natural approach, Seychelle uses Wellspring to support healthy ligaments and joints. And to relax strained muscles, she applies Soothe Topical Hemp Balm. Restful sleep also is a big factor.
"Reducing stress and increasing deep sleep time can aid immensely in recovery. For this I use Calm Premium Hemp Oil, a zero-THC phytocannabinoid-rich hemp oil. I noticed a difference in my sleep quality immediately when I started using it,"
shared Seychelle.
The next step for this power athlete is the world championship tour finals on the APP World Tour in Paris, France. But she won't stop there. Seychelle is also a paddle coach, a registered yoga instructor, certified nutrition coach, and certified personal trainer with programs designed to cultivate strength, energy, endurance, balance and bliss within the body.
"Right now, I am fighting hard to finish up the year with a World Title. I like the feeling of victory when all of your hard work pays off and I like motivating and inspiring others to find what drives them to work hard, live passionately, and feel successful in life. My motto is 'breathe and smile' and I believe that anything is possible,"
explained Seychelle.
About Touchstone Essentials
Touchstone Essentials was founded in 2012 by 30-year industry veteran, Eddie Stone, with a vision of organic goodness accessible to everyone. They ship to over 60 countries around the world. Touchstone Essentials has been experiencing double-digit growth over the past 3 years and with the recent launch in August 2018 of the organic CBD hemp oil line, things have started reaching critical mass.
They describe themselves as proud rebels with a cause, offering products for Daily Detox, Organic Superfoods, and CBD. When you join as a VBO, you become a visionary business owner. As a VBO, you're the CEO of your own empire, but you're not alone. Touchstone Essentials offers an advanced digital marketing system with a trove of resources, all at no additional cost. This includes a TheGoodInside.com e-commerce site, blog, and e-newsletters, social media retargeting and more. For more information please visit www.thegoodinside.com