AIM Global Attracts 15,000 Attendees In Mid-Year Rally Event
December 10, 2019
By Team Business For Home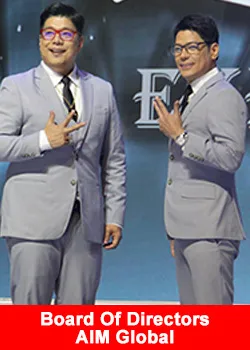 A dynamic crowd of over 15,000 distributors attended AIM Global's annual Mid-Year Rally last November 10, 2019 at the Mall of Asia Arena. This momentous event served as a venue to celebrate the impressive milestones achieved by the newest members of the Millionaires Club, Global Ambassadors, the Rising Stars awardees, Top 5 Local Business Center Offices and the Rookie of the Year.
Leading the recognition rites were the company's Board of Directors/ Founders, Visionary President and CEO Dr. Eduardo Cabantog and Chief Marketing Officer Mr. John Asperin, the Company Vice Presidents Mr. Arnel Limpin and Engr. Jurgen Gonzales and ALIVE Foundation Chairperson and Director of International Affairs Dr. Connie Cabantog.
"Time will come that you will stand on this very stage, whether you like it or not. We will make you talk. Because if you want to make it big, you will have to face everyone and eventually become an inspiration to those who are starting too." –
Chief Marketing Officer Mr. John Asperin
Chief Marketing Officer aka AIM Global's "Mr. Excitement" Mr. John Asperin took center stage to encourage the newly-joined members and veteran distributors. He gave special attention to the new members of the Speakers Bureau and dropped a sound advice to everyone who's planning to join.
Mr. Asperin told them encouragingly that they have to "Dream big. Think big. Make it big. If you're going to hustle, make sure to give your best effort. It doesn't suit you to be just a part of the applauding crowd, it's better if you're the person who's being applauded on stage."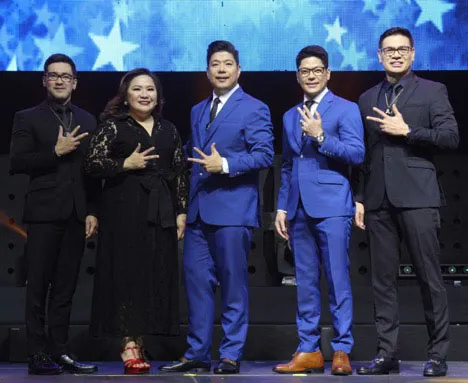 The event started with the awarding of the new members of the Speakers Bureau.  Other distributors were also awarded for reaching new milestones; New Rising Star awardees were awarded namely Ms. S. Aboloyan, Mr. A. Wong, Mr. W. Salazar and Mr. Abendan Jr., while Atty. A. Magturo was hailed as the new the Rookie of the Year. The Top 5 Local BCOs were awarded with AIM Global Sta. Rosa branch clinching the top spot, followed by Novaliches, Batangas City, Calamba, and Tanay. 150 new members of the Millionaires Circle and 150 new Global Ambassadors were also conferred in the Mid-Year Rally event.
Testimonies of wealth and success were given by Global Ambassadors Dr. Ramil Orias, Mr. Arthur Enricoso, and Mr. Jose Miguel Zolayvar.
Dr. Ramil Orias shared how joining AIM Global led him to further succeed in the field of dentistry. Because of the health benefits of the AIM Global products and the positive effects of the company to his life, he also wants to help others in changing their lives for the better.
A mentor and a 'master guru' to his downlines, Mr. Arthur Enricoso's main purpose in life is to teach and share his learnings, knowledge, and wisdom about the MLM-Direct Sales industry. While Mr. Jose Miguel Zolayvar, a Global Ambassador and member of the Millionaires Club, believes in lifting his downlines and crosslines up. He uses this mindset as a motivation to succeed together with his team.
Tawag ng Tanghalan Season 3 Grand Champion Ms. Elaine Duran and singer-actor Matteo Guidicelli lit up the stage during their performances to the 15,000-strong crowd at the Mall of Asia Arena.
"We have tried and tested this for a lot of times, and I know this time united in power–and if we're able to do this, we will be able to reach so many people and I know by doing this, with them, with us, together–we will be able to live in victory everyday." –
Chairperson of ALIVE Foundation Dr. Connie Cabantog
Chairperson of ALIVE Foundation Dr. Connie Cabantog shared the power of paying-it-forward. For her, helping others who are in need makes a person whole and the fulfilment of making another person smile brings a deeper purpose in life. She also took the time to thank and praise each and every distributor who helped and volunteered at the last outreach program ALIVE Foundation has organized for 1,050 students at the Guba Elementary School in Cebu City, Cebu, Philippines.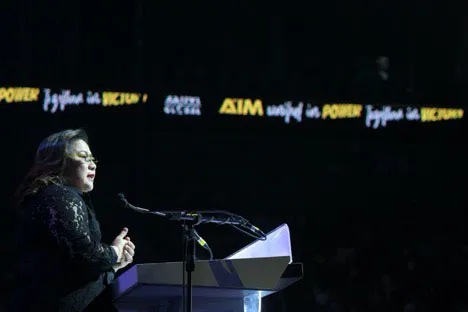 Dr. Connie Cabantog also disclosed to the attendees the future plans to host more charity events, encouraging everyone to donate and volunteer to help the lives of those who are in need, especially the communities seriously affected with recently deadly earthquakes in Mindanao. Appealing to leaders abroad to also pay-it-forward or give back, and to the local distributors to gracefully give way and letting them know that the company will donate the funds for the annual Distributors' Thanksgiving Party to the Davao outreach program instead.
Dr. Ed Cabantog gave a presentation about exciting company updates and rewards exclusively for Europe-based distributors. Starting November 2019, AIM Global Europe members will have the capacity to encash and receive their income in cash on a weekly basis. New promos for the AIM Global Europe flagship product were also announced, as well as new packages such as the Promo European Package.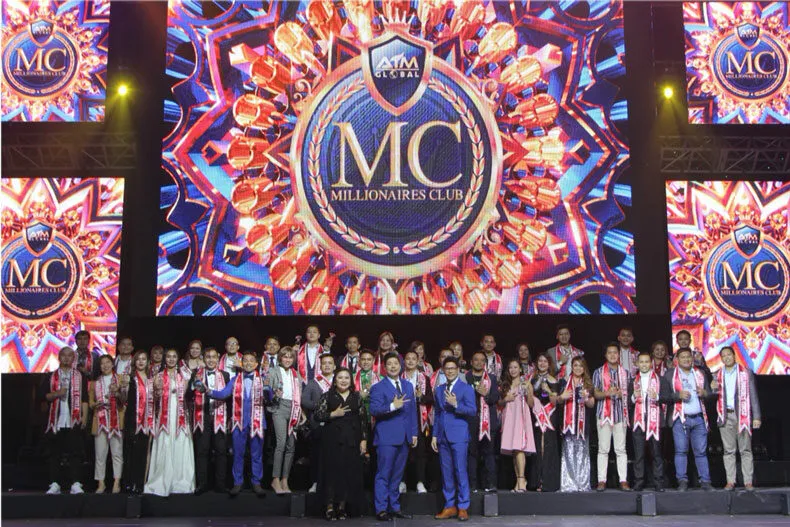 AIM Travels will start catering frequent travels to Bali, Indonesia; Bangkok, Thailand; and Hanoi, Vietnam. And to the extreme delight of the 15,000 attendees, the Visionary President  surprised them with the announcement of 'AIMAZING Travels' to  luxurious and exotic destinations  such as  Morocco, Georgia, Iceland, and the grandest of all, an Asian cruise to Singapore, Malaysia and Thailand.
The Visionary President also dropped the requirements they need to complete to qualify for their chosen top travel destinations of AIM Travels.
 "It's one thing when a company sets aside a portion of their earnings and help the people in need, and its another to influence each and everyone of you to help."
Chief Executive Officer & Visionary President Dr. Ed Cabantog
Lastly, to continue what have been started in by ALIVE Chairperson Dr. Connie Cabantog, Dr. Ed Cabantog introduced a new way for the distributors to help the charitable-wing of AIM Global. Distributors will have an option now to donate their GCs through AIM Global's portal. It's up to the distributors how much they want to give back.
In his inspirational speech, the Chief Executive shared his heart-warming reflections when he personally experienced the Magnitude 6.5 earthquake in General Santos City in Mindanao. Seeing all kinds of people rushing out of buildings, worrying about their families, and crying in panic, Dr. Cabantog realized that he has the power and the platform to influence everyone to help those who are in need, to help lift up the Philippines.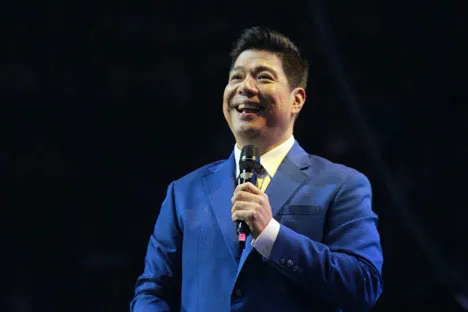 And finally, the Visionary President left wonderful words of wisdom that warmed everyone's hearts, "They say, when you become successful, you will become happy. What I say is, you need to be happy first, and when you're happy, you become successful. You will reach a point when you would love to give because it's going to make you happy. I challenge each and every one of you not only to give, but to be happy! Not when you are earning so much, but even when you are just starting. Because when we take care of our communities, we take care of our environment, we take care of our country; we take care of our business."
ABOUT AIM GLOBAL
Founded by Network Marketing icons Raymond "John" Asperin, Engr. Francis Miguel and Dr. Eduardo Cabantog in 2006, Alliance In Motion Global (AIM GLOBAL) is the leading direct sales network marketing company in the Philippines. The company markets and distributes top of the line Nutraceutical supplements, weight loss wellness products, personal care and skincare products, functional beverages and premium lifestyle products.
The company is a proud member of MLMIA (Multi-Level Marketing International Association) in USA, founding member of Direct Selling Association in Pakistan (DSAP) and Direct Selling Education Institute (DSEI) of Dubai, UAE.
AIM Global has 130 business center offices in the Philippines and has global offices in 20 countries namely Hong Kong, Singapore, Taiwan, Brunei, Papua New Guinea, UAE, Bahrain, Kuwait, Pakistan, Nigeria, Ghana, Kenya, Uganda, Togo, Ivory Coast, Cameroon, Tanzania, Rwanda, and the Solomon Islands.
AIM Global is categorized as "+AAA" business opportunity, Top 100 Solid MLM Direct Sales Company 2018-2019, Top 10 Momentum Direct Selling Companies 2018-2019, Top Direct Selling CEO 2014-2019, Founder/Director/CEO and Visionary President Dr. Eduardo Cabantog as one of the Ambassadors of Network Marketing – Hall of Fame 2018 by Business For Home, top awardee in the Direct Sales category of Asia Pacific Entrepreneurship Awards 2017, winner at the International Innovation Award 2018 for its revolutionary Daily Payout System, and one of the awardees for Asia's Best Performing Companies at the 6th Asia Corporate Excellence and Sustainability (ACES) Awards 2019. For more information please visit www.allianceinmotion.com