Former LPGA Pro, Belen Mozo Becomes Global Brand Ambassador For Touchstone Essentials
January 10, 2020
By Team Business For Home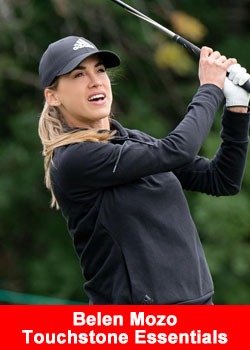 From junior golf champion to LPGA professional to nutrition influencer and fitness coach, Belen Mozo has always been passionate about clean eating and healthy living, and that's what led her to Touchstone Essentials. Having been an elite athlete since youth, she's always been conscious of full-body health.
"Athletes that keep up with a consistent supplementation routine do it for performance levels but also for discipline," says Belen. "Having discipline with your body is the first thing you learn. Since an early age, you are learning to be conscious about what you eat, how you sleep, how you train, and how you supplement your body."
Belen enjoyed a successful LPGA career for several years until an injury caused her to make the courageous decision to step away from competitive golf. As difficult a decision as it was, it was the right one for her, and she did it with strength and grace.
"I had a desirable junior career and a fruitful professional career, and I am now ready to face the next stage of my life and venture into new terrains."
One of Belen's new ventures is mentoring young female athletes, and she is excited about her role at the new all-girls golf academy, The G2. The G2 Academy is designed to help junior female golfers achieve their goals in the sport and beyond, and Belen visits several times a year to serve as a role model.
"What I love about The G2 is that we're not just teaching golf, we're empowering these young women to shape their own futures. It is an honor to be their role model."
When she's not mentoring young girls, she's coaching others on health and fitness. Years of discipline and dedication taught her that you can't get the kind of nourishment you need from diet alone, especially if you're an athlete. Always searching for premium, clean and natural products, Belen discovered Touchstone Essentials.
"I'm a big believer in nutritional supplements because fruits and vegetables no longer have enough of the nutrients you need, especially when you're active. But you have to be careful, the deficiencies in food also extend to supplements which can be filled with synthetic vitamins and questionable ingredients."
After reading the wealth of information and the reviews on the Touchstone Essentials website, Belen decided to test their products and says it's been a perfect partnership ever since. She is now an official global ambassador for the brand.
"Touchstone Essentials supports sustainable and organic practices to hand you the cleanest ingredients. These nutritional supplements are filled with organic superfoods to support living a vibrant and healthy life."
Belen's daily nutritional routine includes Pure Body and Pure Body Extra Strength for total body detox, Essentials for anti-aging defense, brain and cardiovascular support, Supergreens +D for energy and gut health and she drinks an Organic Super Protein with Super Green Juice shake to support recovery after workouts.
"I am very honored to be part of this amazing community, and proud to be an ambassador for this incredible brand. I take these products every single day, and I feel confident knowing that I'm fueled by The Good Inside."
About Touchstone Essentials
Touchstone Essentials was founded in 2012 by 30-year industry veteran, Eddie Stone, with a vision of organic goodness accessible to everyone. They ship to over 60 countries around the world. Touchstone Essentials has been experiencing double-digit growth over the past 3 years and with the launch of the organic CBD hemp oil line, things have started reaching critical mass.
They describe themselves as proud rebels with a cause, offering products for Daily Detox, Organic Superfoods, and CBD. When you join as a VBO, you become a visionary business owner. As a VBO, you're the CEO of your own empire, but you're not alone. Touchstone Essentials offers an advanced digital marketing system with a trove of resources, all at no additional cost. This includes a TheGoodInside.com e-commerce site, blog, and e-newsletters, social media retargeting and more. For more information please visit www.thegoodinside.com