Industry Icon John Sachtouras Is Launching Ascira
January 30, 2020
By Team Business For Home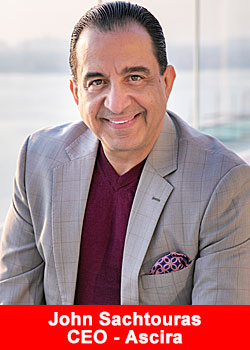 According to an Ascira Press release:
John Sachtouras is launching his own company named ASCIRA; a global direct sales/network marketing company.
With more than three decades in network marketing, and his previously owned traditional businesses, John Sachtouras has built organizations of more than one million distributors around the world and produced well over one billion dollars in combined sales.
With the launch of ASCIRA, John Sachtouras will revolutionize the industry by offering an on-demand platform with diversified education, designed for people to learn, take action and apply the knowledge to reach their desired results.
His global vision is to connect Beyond a Billion people around the world, through the integration of the three most powerful industries under one platform:
Network Marketing
Social Media
e-Commerce
to offer the best opportunity never seen before in the marketplace. Understanding the importance in setting a strong corporate foundation and culture, ASCIRA's philosophy is based on three Greek values;
Ethos (the appeal to character and ethics);
Pathos (the appeal to emotion and experience)
Logos (the appeal to logic or reason).
"Our mission is to provide great value and exceptional benefits to empower and reward people, to raise the mindsets, thus improve the quality of life, while embracing the modern era of living."
stated John Sachtouras.
Mr. Sachtouras has also implemented an important incentive program to recognize all deserving leaders in ASCIRA, called Global Leadership Branding.
With this in mind, he is presently building a cutting-edge, state-of- the-art recording and broadcasting studio in Dubai, for training, interviews, showcasing success stories, recognitions, and weekly programs in multiple languages.
About ASCIRA
Launching in March of 2020, ASCIRA will become a global leader in the field of education, direct sales and in network marketing industry. For more information on ASCIRA, you may contact us at [email protected]. For more information please visit www.ascira.com