LifeVantage Sales Up 5.3% To $61.2 Million
January 29, 2020
By Team Business For Home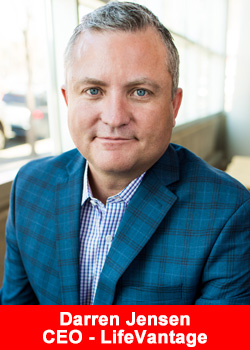 LifeVantage Corporation (Nasdaq: LFVN) today reported financial results for its second quarter ended December 31, 2019.
Second Quarter Fiscal 2020 Summary*:
Revenue increased 5.3% to $61.2 million;
Revenue in the Americas increased 4.3% and revenue in Asia/Pacific & Europe increased 7.8%, including 4.7% growth in Japan;
Total active accounts increased 0.6% sequentially to 182,000, while declining year over year by 1.1%. The sequential growth included a 4.6% increase in distributors, partially offset by a 1.7% decline in customers. On year over year basis, distributors increased 3.0% and customers declined 3.4%;
Adjusted EBITDA increased 82.2% to $6.0 million;
Earnings per diluted share were $0.30, compared to $0.06 in the prior year period;
Adjusted earnings per diluted share increased 138.5% to $0.31, compared to $0.13 in the prior year period; and
Repurchased $2.0 million of common shares during the second quarter of fiscal 2020.
* All comparisons are on a year over year basis and compare the second quarter of fiscal 2020 to the second quarter of fiscal 2019, unless otherwise noted.
"We are pleased with our strong revenue growth and profit performance during the second quarter. We generated over 5% year over year revenue growth, 82% year over year growth of adjusted EBITDA and 138% adjusted EPS growth over the prior year period,"
stated LifeVantage President and Chief Executive Officer, Darren Jensen.
"The U.S. launch of our newest addition to our flagship Protandim® product line, Protandim® NAD Synergizer™, was a significant success and lifted sales across our entire family of Protandim® products during the quarter.

We continue to see a strong consumer response to our recent launch and are focused on driving subscription orders of both our Protandim® NAD Synergizer™ and our newly introduced Protandim® Tri-Synergizer™ bundle.

Additionally, we saw strong sales growth in our Asia Pacific and Europe region, particularly within Japan where sales increased 5%. We also enjoyed a strong launch in New Zealand during the quarter, leveraging our existing business in Australia."
"We remain on track to meet our fiscal 2020 expectations for both revenue and adjusted EBITDA, and are increasing our fiscal 2020 adjusted EPS guidance. We remain confident in our business and will continue to execute upon each of our 2020 initiatives to drive growth, margin performance and shareholder value," continued Mr. Jensen.
About LifeVantage
LifeVantage Corporation (Nasdaq: LFVN) is a pioneer in Nutrigenomics – a new science dedicated to biohacking the human aging code.
The Company engages in the identification, research, development, and distribution of advanced nutrigenomic dietary supplements and skin and hair care products, including its scientifically-validated Protandim® product line, Omega+ and ProBio dietary supplements, its TrueScience® line of Nrf2-infused skin and hair care products, Petandim™ for Dogs, Axio® Smart Energy Drink mixes, and the PhysIQ™ Smart Weight Management System. LifeVantage was founded in 2003 and is headquartered in Salt Lake City, Utah. For more information, visit www.lifevantage.com.
Recommended Distributors LifeVantage