MLM Industry Veteran Rick Aguiluz Joins QuiAri
January 30, 2020
By Team Business For Home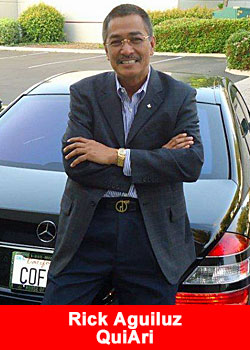 Rick Aguiluz, one of the industry's most prolific promoters, has joined the QuiAri team and believes it could be the next billion-dollar brand.
Rick previously served as CEO, Sales Director, and Director of International Sales for three different publicly traded companies and has built sales organizations of more than 75,000 distributors in North America and more than 25,000 in Asia. Rick, who is originally from the Philippines, has lived in Orange County, California most of his life.
"I've been in network marketing over 30 years. It's hard to get excited about a new MLM company, because I've seen so many come and go. QuiAri was different. It has all of the key ingredients required for success: state of the art technology, exclusive products, great infrastructure, financial stability, incredible leadership, plus they are helping people look and feel better.

When I first learned about the opportunity in Las Vegas, I was seriously pumped. I couldn't even wait to get back to California. I started promoting at the airport,"
stated QuiAri promoter Rick Aguiluz.
 Rick isn't just a QuiAri Ppromoter. He's also a product of the product. A member of QuiAri's leadership team offered Rick a sample of QuiAri Shake. From that moment, he began his 90-Day Kickstart Challenge and hasn't stopped taking the product.
"I drink a Shake every morning. I like to blend in apples and bananas, then I mix it with almond milk. I'm not trying to lose weight. I just like the taste and it helps me stay on track with my health. I do use QuiAri Energy to stay alert and clear-headed during the day. I travel a lot and it has been helping me deal with jet lag,"
said Rick Aguiluz.
 QuiAri's Compensation Plan provides Promoters with a unique way to get paid. Unlike other companies that wait weeks or months to pay out commissions, QuiAri  offers "Same Day Pay." Promoters get paid within 5 minutes after a making a sale. It is the fastest payout in the entire MLM industry. Rick believes Same Day Pay will be very helpful to many Americans and international residents living paycheck to paycheck.
 "The speed in which you get paid is the fastest I've ever experienced. The QuiAri App makes a cha-ching sound every time you get paid. Sometimes I hear the ring within 30 seconds to a minute after a sale and bingo – the money is already deposited in my account.

Internationally and even in America, people that have full-time jobs can still be struggling to pay their bills. If you're driven to succeed, you can earn Same Day Pay the very same day you sign up,"
stated Rick Aguiluz.
 Rick has already started promoting QuiAri internationally, but has plans to expand to under-promoted or untapped countries throughout Asia, Europe, Africa, and Central America.
"I have a bucket list of 100 places I've always wanted to visit and contacts all over the world. My 5-year plan is to help QuiAri open for business in as many markets as possible.

These products are simply amazing and everyone in the world should have an opportunity to take the Challenge. Who knows? Maybe one day I'll be the first QuiAri Promoter to have a team in Antarctica. Time will tell," 
About QuiAri
QuiAri provides life-changing opportunities that empower people to feel their best so they can live their best. Their breakthrough health and wellness products are made from an exclusive extract of the maqui berry, the world's new number 1 superfruit. Plus, QuiAri offers opportunities to receive Same Day Pay just by sharing their products with others. Try. Love. Share!
To learn more about QuiAri, or to get in touch with a Promoter, visit QuiAri.com.
These statements have not been evaluated by the Food and Drug Administration. These products are not intended to diagnose, treat, cure or prevent any disease.
Income Disclosure Statement
Please note the QuiAri business opportunity offers unlimited income potential. However, QuiAri makes no guarantee of financial success. Success with QuiAri results only from successful sales efforts, which require hard work, diligence, skill, persistence, competence, and leadership. Your income will depend upon how well you exercise these qualities.
 As QuiAri is in its first year of business operations, we do not have sufficient statistical data to prepare complete, first-year income disclosures. A more detailed survey will be conducted after our first year of business. If income projections were presented to you prior to your enrollment, such projections are not representative of the income, if any, that you can or will earn through your participation in the QuiAri Compensation Plan.
Recommended Distributors QuiAri