Riccardo Benato From Italy The Youngest Blue Diamond And Top Recruiter at ORGANO
January 10, 2020
By Team Business For Home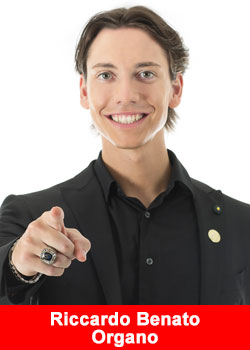 Riccardo Benato stands at the intersection where visionary entrepreneurship meets smart and tireless work ethic.
Riccardo is the youngest person to achieve Blue Diamond qualification at ORGANO.  He has earned the coveted distinction of "Top Recruiter" and consistently qualifies at his highest paid rank achievement.
Riccardo's entrepreneurial story is unique and full of serendipity. From an early age, he knew he wanted to take control of his own life and work towards realizing his own dreams – not someone else's. Deep inside he was certain his quest for personal financial independence did not reside in an office job.  He was sure his future was not already written in a textbook.  Riccardo wanted to chart his own course and write his own life story.  He just needed to find a vehicle he could use to learn entrepreneurship and build the life of his dreams.
Little did Riccardo know his perfect future was actually looking for him.
One day, ORGANO appeared in his life thanks to a recommendation from a close friend. At the time, Riccardo worked as a waiter in a nice restaurant.  As soon as his friend recommended he evaluate ORGANO Riccardo knew he had finally found the vehicle he could use to become an entrepreneur.  He quickly completed an application and started working.
"All I wanted to do was learn how to be an entrepreneur and create a higher income than the few hundred euros I earned as a waiter.  I was able to do both of those things and so much more.

What I got was an entire profession and a global business which has changed my life completely," says Riccardo.
For him, it's all about the entrepreneurial mindset and how the network marketing profession presents a wide range of possibilities to young aspiring entrepreneurs like him.
"Millennials are attracted to entrepreneurship.  As a generation we want personal and financial freedom.  We want to be social and create value for our friends and families.

A normal job does not offer the liberty most Millennials desire.  They are discovering network marketing, and ORGANO, in particular, is the best opportunity to achieve what they want."
As in all endeavours, there are highs and lows.  During his first few months with ORGANO Riccardo wasn't able to earn much money but he kept his competitive mindset and learned from his mistakes. Each time Riccardo fell, he got back up quicker and stronger than before, learning about himself and how to stay strong as a young entrepreneur with big goals.
"Network marketing is definitely a business for those who like to evolve. I strongly believe if you want things to change in your life, YOU must change and if you want things to improve, YOU must improve.

If you open your mind to change and work hard on yourself, the greatest doors will open — doors the majority of people don't want to know about or simply are not yet ready to open.  The three greatest entrepreneurial lessons I have learned through ORGANO are: how to create leverage; how to recognize value and opportunities and the importance of timing."
From all those lessons, his growth was exponential: Riccardo's first success came when he was just 24 and received Rookie of the Year recognition in 2014.  He achieved Blue Diamond status in 2015 and solidified himself as one of the most successful network marketing professionals worldwide.
Up to this day, Riccardo consistently qualifies as an ORGANO Blue Diamond.  He continues his quest to be the best while attracting large numbers of young people to ORGANO and teaching them entrepreneurship through the network marketing profession.
His success has allowed him to travel around the world.  Riccardo has visited over 20 countries and has attracted thousands of customers and independent entrepreneurs to ORGANO.  Other key milestones achieved early on in his career include the first time he earned 100K and 250K ring earner recognition and then becoming a valued Member of ORGANO's Global Distributor Council (GDC).
One key to his success?

"work in silence and let success make the noise! I prefer to work in silence with my team but let everybody hear and feel our huge success, rank after rank, record after record".
Riccardo's goal is full of purpose: allow and inspire others to create their own path in life, instead of giving their all to someone else.
"Changing lifestyle for me did not mean being able to drive a Ferrari or live in a mansion, it simply meant becoming the owner of my time, being able to travel, getting to know the world, and spending as much time with my family as I wanted.

Living life on my terms. ORGANO was the vehicle that helped me change my life and I am forever grateful."
Riccardo's work ethic, commitment to the success of other people and laser focus on his mission keep him as one of the brightest Diamonds of his generation at ORGANO.  As a company we are proud to be on this mission with him.
About ORGANO
Founded in 2008 ORGANO is one of the world's leading producers and marketers of healthy, convenient and affordable food, nutrition, beauty and lifestyle products and services. ORGANO specializes in developing and marketing proprietary food and nutrition products, specialty brewed beverages, personal care and beauty products as well as a range of travel related products and services.
ORGANO provides superior quality, taste, and nutrition in all of its consumable products and produces and markets advanced beauty products based on proprietary botanical formulations through its "beU by ORGANO" brand. The company's unique travel related products and services are offered through its proprietary "TRAVALLA" branded cloud based SaaS platform. The company currently operates in five continents. Fpr more information please visit www.organogold.com