3,000 Alliance In Motion Distributors Attend Nigeria Kick-off Trainings
February 29, 2020
By Team Business For Home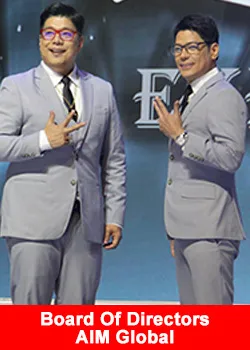 With its unprecedented and solid commitment to its thousands of distributors in Nigeria, Alliance In Motion Global, Inc. launched a series of kick-off trainings that ushered in great news, significant insights and wonderful updates for 2020.
3,000 AIM Global distributors and leaders eagerly anticipated the trainings in the eight branches namely Lagos, Uyo, Port Harcourt, Onitsha, Abuja, Ibadan, Kano and Warri that will give them the much needed boost to help them gain knowledge and the confidence in fulfilling the demands of the business the best possible way.
"You need to ensure that you have the right mindset to go along with your skillset."
-Ngozi O. (Elite GA/MC/TOP 20) 
Hundreds attended the kick-off training at the Lagos office. International Trainer Ruzel Guillera took center stage, revved up attendees with company updates. She further encouraged them to keep in mind that "One important rule for success: be happy with the success of others."
Top leader Ngozi O. (Elite GA/MC/TOP 20)   pointed out the importance and the resilience of "change".  She said "As important as it is to have a skill required for whatever role you are currently in, sometimes this isn't simply enough in the  competitive field."
On the other hand, a deeper understanding on "commitment to the business" was further stressed by Mr. Chino G.  (ELITE GA/MC).  "Commitment is a powerful word. When you commit to something there's a deeper reason to execute what you have promised."
Last but the least International Trainer Mr. Christian Enrile presented the new GPs which further built greater excitement among the attendees. 
"As you begin to become more successful, it may be difficult to stay on track. But no matter how caught up you may get your end goal should never leave your mind & be sure that whatever you may be doing currently, it is to get you closer to that."
Emenike E. (ELITE GA/MC/SB).
UYO
The Uyo branch had jump-packed attendance with International Trainer Jermaine Japitana spearheading the presentations.  He introduced the new GPs. He ended his presentation by saying "Rejection is a part of the networking business. Instead of getting discouraged, why not learn from the experience…"
More words of wisdom emanated from Emenike E. (ELITE GA/MC/SB) from on your networking journey to success.   And as the saying goes, the journey to success isn't an easy climb. Nyeneime P (ELITE GA/MC/SB) encouraged the attendees to practice by heart and mind the "Gratitude Attitude".   If you're always trying to be normal you will never know how amazing you can be."
Adding to this, Adeyemi M. (ELITE GA/MC/TOP 2) talked about doing positive changes. "When you start making excuses for why you can't succeed, your dreams have become overshadowed by your excuses."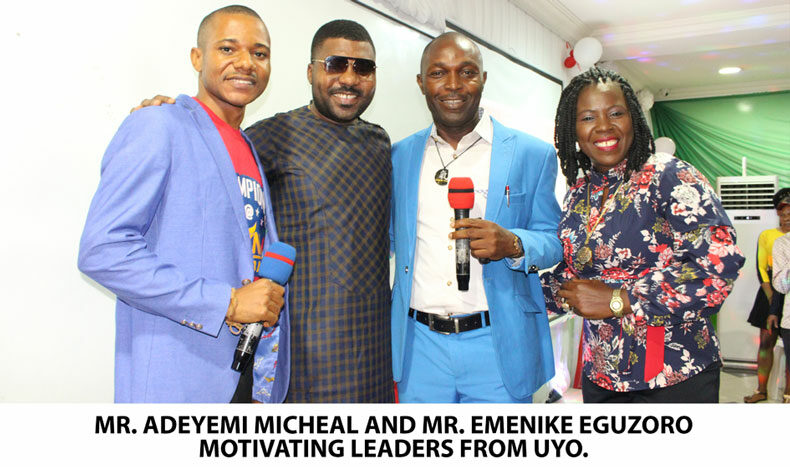 Port Harcourt and Onitsha branches had the kick-off training on January 22, 2020.
PORT HARCOURT 
Countless distributors were present for the Kick-Off Training and were ready to listen to the insights and experiences shared by successful leaders like Ofonmbuk U (ELITE GA/MC/TOP3) who earnestly talked about commitment as the key driver to your success.  He shared that "If you won't visualize, internalize and practice every day, then you won't achieve success."
International Trainer Jermaine Japitana enunciated the vital need to know more about the business.  "Spend time to learn about the industry, the company and the plan. The more you know, the more you can represent the business, and the more confident you will become."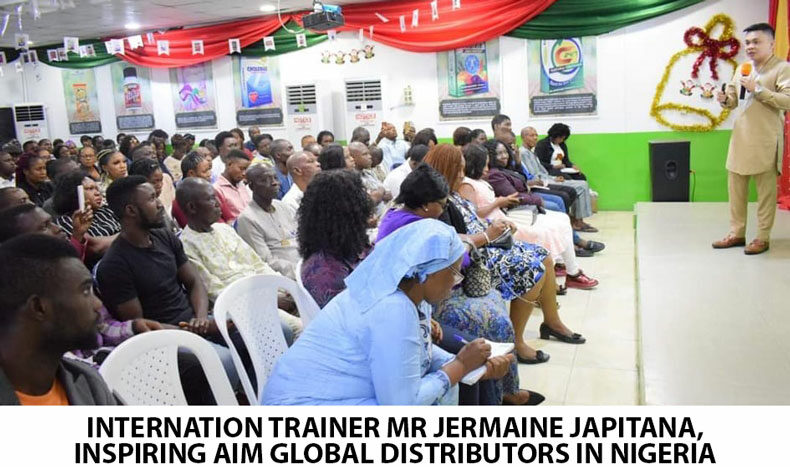 ONITSHA
"If whatever you do in life is meaningful enough to you, you will cancel all excuses and overcome all obstacles that stand in your path. That's what it takes to be committed to your dreams and goals.
– Adeyemi M (ELITE GA/MC/SB/TOP 2)
For the Onitsha kick-off training, International Trainer Katrina Linan presented to more than 300 attendees "Vision 2020". She further stated "People fail in this business because they only want to ripen the fruits on the harvest, while they don't intend to go through the efforts of ploughing the fields, planting the seeds, fertilizing the soil and watering the sprouts consistently."
Accomplished leader Orji I. (GE/MC/SB) expressed to the crowd, "At some point in your career,   you will have to deal some setbacks that may alter your business plan. When this does happen it is important to move forward and adjust rather than dwell and be stressed about it."
IBADAN 
International Trainer Ruzel Guillera opened the training to an enthusiastic crowd of 300. She prepped them with exciting new company updates.   She ended her presentation stating "One rule of success: Be happy with the success of others"
The attendees learned more insights on "Stages of Commitment" discussed at length by Ango Saliu (GE/MC)  and  were further motivated with "Traits of a Millionaire"  presented by International Trainer/Coach Christian Enrile .
Kick-Off Trainings were held simultaneously last January 25, 2020 at Abuja and Kano branches.
ABUJA
More than 250 distributors and leaders were all ears to top leader Chikat L (ELITE GA/MC/SB/TOP 18) who presented "VISION 2020" and left words of encouragement. "The journey from rags to riches is an internal trip. The mind is the battle ground, if you win in your mind, you win."
Mr. Chino C. (ELITE GA/MC) meaningfully delved on the seven stages of commitment. He ended his presentation stating, "If you surrender your dreams when things become hard, then you lack committment to your goals."
KANO
More than 300 distributors were all ears to the presentations at the Kick-Off Training. International Trainer Katrina Linan cascaded company updates and Vision 2020. Bringing into focus commitment and success is Olukayode A (Elite GA/MC/TOP12). The top leader enthused, "Achievement is subjective. It is a matter of time. Some may achieve success early on, some achieve it for years, some will continue to achieve for decades because of their commitment."
Abubakar S. (GE/MC/SB)   talked about developing a positive attitude in the business.
"In developing a positive attitude you must learn to fight negativity, ignore distractions and distractors, never dwell on your failures and surround yourself with inspiring people."
The last leg of the Kick-Off Training was held last January 237, 2020 at the Warri branch.
WARRI
Chairman Emmanuel Akpakwu gave the opening remarks to a crowd of more than 200 attendees.  International Trainer Jermaine Japitana imparted company updates.Achiever Omokunlea A (GE/MC/SB)  challenged the attendees to be adaptable to "change".  "If you have a negative mindset, the times has come for you to change to a positive mindset."
Having the right attitude in life is equally important in the business. Edet O.
(ELITE GA/MC/SB)  emphatically  stated "Your success in this life depends on you, if you don't succeed its because of you, your destiny, your future is in your hands."
Overall, attendees from the series of kick-off trainings felt more empowered, more assured and gained a renewed sense of direction in network building and motivating team members.
ABOUT AIM GLOBAL
Founded by Network Marketing icons Raymond "John" Asperin, Engr. Francis Miguel and Dr. Eduardo Cabantog in 2006, Alliance In Motion Global (AIM GLOBAL) is the leading direct sales network marketing company in the Philippines. The company markets and distributes top of the line Nutraceutical supplements, weight loss wellness products, personal care and skincare products, functional beverages and premium lifestyle products.
The company is a proud member of MLMIA (Multi-Level Marketing International Association) in USA, founding member of Direct Selling Association in Pakistan (DSAP) and Direct Selling Education Institute (DSEI) of Dubai, UAE.
AIM Global has 130 business center offices in the Philippines and has global offices in 20 countries namely Hong Kong, Singapore, Taiwan, Brunei, Papua New Guinea, UAE, Bahrain, Kuwait, Pakistan, Nigeria, Ghana, Kenya, Uganda, Togo, Ivory Coast, Cameroon, Tanzania, Rwanda, and the Solomon Islands.
AIM Global is categorized as "+AAA" business opportunity, Top 100 Solid MLM Direct Sales Company 2018-2019, Top 10 Momentum Direct Selling Companies 2018-2019, Top Direct Selling CEO 2014-2019, Founder/Director/CEO and Visionary President Dr. Eduardo Cabantog as one of the Ambassadors of Network Marketing – Hall of Fame 2018 by Business For Home, top awardee in the Direct Sales category of Asia Pacific Entrepreneurship Awards 2017, winner at the International Innovation Award 2018 for its revolutionary Daily Payout System, and one of the awardees for Asia's Best Performing Companies at the 6th Asia Corporate Excellence and Sustainability (ACES) Awards 2019.
Recommended Distributors Alliance In Motion