AIM Global Salutes The New Year With "Vision 2020"
February 6, 2020
By Team Business For Home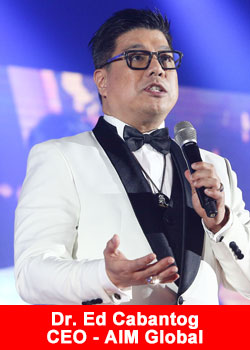 It is customary for big companies to look forward to the New Year and Alliance In Motion Global, Inc. is not an exception.  Motivational power talks, valuable insights and a string of great news greeted 10,000 distributors of AIM Global's Kick-Off Training last January 12, 2020 at the SM Mall of Asia Arena.
The enthusiastic attendees were able to get first-hand information on the company's newest programs, products, and plans.
A game plan is something that tells the leader or the professional the what, 
Mr. Arnel Limpin
Vice President for Training and Network Development
The first good news was handed by Vice President for Training and Network Development Mr. Arnel Limpin. He announced that a new module was created for all the distributors to use and help them increase their sales and grow their network.
Mr. Limpin explained that this module intends to create more millionaires this year of the rat. Called the "System for Business Builders", new distributors are encouraged to attend an NRDO which stands for New Registered Distributors' Orientation. The so-called "game plan" will teach the newly registered distributors about the proper culture of AIM Global, all the company rules, personal branding, and building one's confidence. This "game plan" will be the distributors' guide on the how, why, and when of achieving particular goals.
"An individual must have the right attitude, the right skills, the right knowledge, and the right mindset."
Mr. JURGEN GONZALES, Vice President for Business Development
On the other hand, Vice President for Business Development Mr. Jurgen Daniel Gonzales gave a hint on AIM Global's upgraded marketing plan in which distributors will have a chance to gain higher income.
Mr. Gonzales tackled about increasing one's value. He said "an individual must have the right attitude, the right skills, the right knowledge, and the right mindset."
He explained on having the capability to adapt to new things and to embrace change to survive. "Adaptability skills allow you to survive, develop, create, learn, and succeed. We should be open to change without fear but with positive thinking and desire to learn."
Mr. Gonzales also emphasized that AIM Global is not threatened by other networking or multi-level companies which is not the reason why it is making some changes in its marketing plan. He explained that these changes will help protect the industry from scams and illegal companies that may create bigger damage to people who are playing fair games.
Top One (1) leader for 2018 Mr. Louie Gascon shared key insights on leveraging and encouraged members to continue being passionate, assertive and to never give up in the business. He said "I don't count failures. I become better because of failures."
"Never be judgmental on anyone or anything" is what Hall of Famer Mr. Jon Vincent San Juan imparted to the attendees. He also shared practical guidelines and   his journey to success that moved the crowd.
"The foundation of all great teamwork is TRUST. It is as well the foundation and starting point of all great leadership."
Coach CHOT REYES, Professional Basketball Coach
To inspire the distributors and everyone in the audience even further, Coach Chot Reyes, a professional basketball coach, the head of Gilas Pilipinas delivered a very motivational talk for everyone's take out.
Coach Chot explained the meaning of the word TEAM used by Gilas which stands for Trust, Effort, Accountability, and Motivation and how it can be applied to every AIM leader and its members.  Mr. Reyes pointed out "the foundation of all great teamwork is TRUST.
It is as well the foundation and starting point of all great leadership. Leaders must forge a strong trust-based relationship with people to be able to create a good team that delivers". As a piece of sound advice to all the leaders, he said that leaders should keep on acknowledging their people for promoting great teamwork. He added that "we all have our job to make to be able to contribute to the team's welfare."
"Never join a leader that speaks ill about other company, other products, and people. Look for a leader that speaks positively and appreciates others."
Mr. JOHN ASPERIN, Chief Marketing Officer
Keeping up the fervor, energy and excitement of the attendees was Chief Marketing Officer Mr. John Asperin.  "Mr. Excitement" himself disclosed about the scientific-based networking which is a proven method among all the successful and top distributors.
This scientific-based networking according to studies is a combination of neuroscience, behavioral economics, and social psychology. It is a demonstrable technique wherein the focus is on how to grow the network and engage more downlines. Some of the important points that he tackled include the right timing when prospecting, having a positive attitude, setting a goal, and getting a reliable support system.
He expressed "Never join a leader that speaks ill about other company, other products, and people. Look for a leader that speaks positively and appreciates others."  He added "an individual should always look at the bigger picture, should know how to give options, and must know how to handle his people by showing concern and provide help to others when challenged." He gave special importance to breaking through different barriers to be able to make a breakthrough and be a successful leader and networker.
"Belief is a very powerful word, believing in yourself will catapult you to a different level…once you start believing in yourself you get to do things that you haven't done before…you'll start breaking boundaries after boundaries…and will start to make a breakthrough."
Dr. EDUARDO CABANTOG, President and Chief Executive Officer, Visionary President
The most awaited part of the night was delivered by no less than the Visionary President and Chief Executive Officer Dr. Eduardo Cabantog.  The Visionary President expounded on the innovations that the company made with the marketing plan that will create bigger income among the distributors the easiest way.
The top executive said in detail that the New Global Package that will bring a more rewarding direct referral bonus, pairing bonus, and binary income. This accordingly will be the biggest binary income in the industry on a daily, weekly, and monthly basis.
Together with Mr. Jurgen Gonzales, he announced a roster of new ranks namely Silver Executive Prime, the Gold Executive Prime, and the Global Ambassador Prime and the prestigious benefits that await you when you reach the level of these ranks.
Dr. Cabantog and Mr. Gonzales stated the NPP will benefit all accounts bearing the same name with the use of Same Name Compression and Dynamic Compression. And as for the Personal Monthly Achievement (PMA), it will cover the entire compensation plan from binary, stair steps, uni-level, and the newly created Uni Pay Plan.
The Kick-off Training ended on a very positive note from all the speakers and with affirmation among the thousands of distributors and leaders who attended the event.
ABOUT AIM GLOBAL
Founded by Network Marketing icons Raymond "John" Asperin, Engr. Francis Miguel and Dr. Eduardo Cabantog in 2006, Alliance In Motion Global (AIM GLOBAL) is the leading direct sales network marketing company in the Philippines. The company markets and distributes top of the line Nutraceutical supplements, weight loss wellness products, personal care and skincare products, functional beverages and premium lifestyle products.
The company is a proud member of MLMIA (Multi-Level Marketing International Association) in USA, founding member of Direct Selling Association in Pakistan (DSAP) and Direct Selling Education Institute (DSEI) of Dubai, UAE.
AIM Global has 130 business center offices in the Philippines and has global offices in 20 countries namely Hong Kong, Singapore, Taiwan, Brunei, Papua New Guinea, UAE, Bahrain, Kuwait, Pakistan, Nigeria, Ghana, Kenya, Uganda, Togo, Ivory Coast, Cameroon, Tanzania, Rwanda, and the Solomon Islands.
AIM Global is categorized as "+AAA" business opportunity, Top 100 Solid MLM Direct Sales Company 2018-2019, Top 10 Momentum Direct Selling Companies 2018-2019, Top Direct Selling CEO 2014-2019, Founder/Director/CEO and Visionary President Dr. Eduardo Cabantog as one of the Ambassadors of Network Marketing – Hall of Fame 2018 by Business For Home, top awardee in the Direct Sales category of Asia Pacific Entrepreneurship Awards 2017, winner at the International Innovation Award 2018 for its revolutionary Daily Payout System, and one of the awardees for Asia's Best Performing Companies at the 6th Asia Corporate Excellence and Sustainability (ACES) Awards 2019.