Cathy Yeates Joins QuiAri As Director Of International Operations
February 4, 2020
By Team Business For Home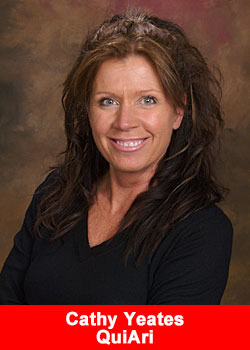 From Tampa to Tanzania, QuiAri's 90-Day Kickstart Challenge is inspiring people all over the world to get healthy and have more energy.
Word is spreading fast both in the U.S. and internationally, which has been fueling growth at a record-setting pace.  Their product-driven movement is resonating with Customers and Promoters worldwide in a way few Direct Sales companies have.
In fact, after just a few months on the market, QuiAri already serves Customers and Promoters in over 100 countries worldwide.
However, CEO and Founder of QuiAri, Bob Reina, is working around the clock to expand even further. Bob won't be satisfied until everyone in the world has access to the Kickstart Challenge, and he's doing whatever it takes to deliver.
His latest move to speed up global expansion is the addition of Cathy Yeates as Director of International Operations. Cathy brings over 15 years of MLM experience to her new role, including 9 years as VP of New Market Development and International Operations of a global health and wellness MLM company.
"The best way to describe QuiAri is fresh. They don't do business the same way everyone else does, there is no following the status quo. For example, most companies cautiously dip their toe in the waters of international expansion.

Here at QuiAri, we dive right in headfirst and just start swimming. I don't know any other business that could pull it off, but we do it well…and make it look effortless,"
stated Director of International Operations, Cathy Yeates.
Cathy was introduced to QuiAri from a former co-worker who is currently on QuiAri's executive leadership team. She had heard great things about QuiAri and was eager to learn more about the products.
"I fell in love with the shakes right away. Normally I fast and skip breakfast, but the taste of the shake was so delicious I completely changed my routine.

Now I drink a shake and take an Energy tablet every morning. I could feel the difference in my health and energy levels almost immediately. I quickly realized what a huge opportunity this could be. People across all cultures want better health and energy and QuiAri can give it to them,"
said Cathy Yeates.
The popularity of the 90-Day Kickstart Challenge is rising quickly. There's no doubt that QuiAri's revolutionary products, compensation plan, and company culture are attracting people from all over the world.
"I've never seen products with such global appeal. When they hear about Same Day Pay, that's commissions paid in just 5 minutes, it's all over.

Nobody else in the health and wellness industry can offer payment that quickly. I'm impressed with what QuiAri has already accomplished considering the company is only 4 months old,"
said Cathy Yeates.
Cathy is excited to be part of QuiAri, but realizes there is much work to be done to take the company to the next level. However, she feels she has plenty of resources to accomplish her goals.
"I've got an amazing team of people with me here at QuiAri. We're a tight group and all driven to succeed. Also, anyone that knows Bob knows he's not your typical CEO. He is driven by innovation.

If a solution doesn't exist, he will find a way to make it happen. From one-of-a-kind products to exclusive payment technology, he has built QuiAri into a business that no one else can duplicate,"
said Cathy Yeates.
About QuiAri
QuiAri provides life-changing opportunities that empower people to feel their best so they can live their best. Their breakthrough health and wellness products are made from an exclusive extract of the maqui berry, the world's new number 1 superfruit. Plus, QuiAri offers opportunities to receive Same Day Pay just by sharing their products with others. Try. Love. Share!
To learn more about QuiAri, or to get in touch with a Promoter, visit QuiAri.com.
These statements have not been evaluated by the Food and Drug Administration. These products are not intended to diagnose, treat, cure or prevent any disease.
Income Disclosure Statement
Please note the QuiAri business opportunity offers unlimited income potential. However, QuiAri makes no guarantee of financial success. Success with QuiAri results only from successful sales efforts, which require hard work, diligence, skill, persistence, competence, and leadership. Your income will depend upon how well you exercise these qualities.
 As QuiAri is in its first year of business operations, we do not have sufficient statistical data to prepare complete, first-year income disclosures. A more detailed survey will be conducted after our first year of business. If income projections were presented to you prior to your enrollment, such projections are not representative of the income, if any, that you can or will earn through your participation in the QuiAri Compensation Plan.
Recommended Distributors QuiAri