Industry Icon Rick Thompson Joins QuiAri
February 20, 2020
By Team Business For Home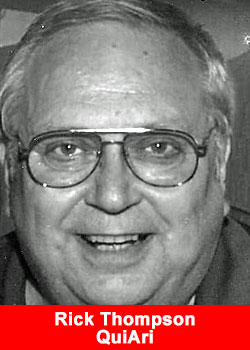 Imagine running your MLM business today without the internet, cell phones, or social media to help build your network. At 71 years old, QuiAri Promoter Rick Thompson has been in the industry for over 40 years and has taken an active role in its evolution.
He was a founding distributor in the very first company to use a nutritional or consumable in a binary program. While many of his friends have settled into retirement, Rick has no intentions of slowing down. With MLM experience in everything from technology to travel, he loves the fast pace of the industry and helping businesses grow from the ground up.
"Some people leapfrog from one MLM business to the next.  In the last 40 years I've only been in 6. But let me tell you, QuiAri will be my last. You don't need to be an expert to see their massive potential. I've worked with nearly every member of their leadership team before. These are all people that know what it takes to succeed,"
said Rick Thompson.
QuiAri, led by CEO and Founder, Bob Reina, is on a mission to help people all over the world look and feel their best with the 90-Day Kickstart Challenge. The Kickstart Challenge is an easy-to-follow 2-step system that has become a global phenomenon in just 4 months.
 Step 1: Drink a delicious chocolate or vanilla shake.
Step 2: Take 1-2 energy tablets immediately after
And that's it – challenge complete.
"Does the Challenge work? You bet it does. So far I've lost 23 pounds and feel fantastic!  This is the best tasting shake on the market and I love QuiAri Energy. No jitters, no crash.  I think the reason QuiAri is so successful is because anyone can do it,"
explains Rick Thompson.
As a QuiAri Promoter, Rick shares his 90-Day Kickstart Challenge story with others and earns Same Day Pay just 5 minutes after every sale. QuiAri is the very first company in health and wellness to offer it. For QuiAri Promoters, Same Day Pay is just one of the many exclusive tools Promoters have at their disposal.
"QuiAri sets you up with everything you need for success – exclusive products, state-of-the-art Back Office, world-class marketing and social media – all done in-house. I've found that even little details can make a big difference.

For example, QuiAri's mobile app makes a "cha-ching" noise every time I earn a commission. I've used the "cha-ching" noise to prove the incredible speed in which you are paid. Seeing is believing in this business. It has definitely helped turn Prospects into Promoters,"
said Rick Thompson.
 Rick is just as excited about the QuiAri opportunity as he is for the Kickstart Challenge. QuiAri has been focusing its efforts on international expansion, planning multiple offices in Africa, Europe, and Asia. QuiAri Manilla just opened for business with the rest scheduled for 2020-2021. Rick sees QuiAri as a great way for new or experienced Promoters to build their global network.
"It's not easy to enter new markets, but QuiAri is blowing through all of the red tape and getting it done faster than I've ever seen. I think it's because everything about the company is legit.

The products work, the opportunity is fantastic, and the leaders will do whatever it takes to help Promoters succeed. In my 40 years, I've seen companies with far less resources than QuiAri become billion-dollar brands,"
explains Rick Thompson.
About QuiAri
QuiAri provides life-changing opportunities that empower people to feel their best so they can live their best. Their breakthrough health and wellness products are made from an exclusive extract of the maqui berry, the world's new number 1 superfruit. Plus, QuiAri offers opportunities to receive Same Day Pay just by sharing their products with others. Try. Love. Share!
To learn more about QuiAri, or to get in touch with a Promoter, visit QuiAri.com.
These statements have not been evaluated by the Food and Drug Administration. These products are not intended to diagnose, treat, cure or prevent any disease.
Income Disclosure Statement
Please note the QuiAri business opportunity offers unlimited income potential. However, QuiAri makes no guarantee of financial success. Success with QuiAri results only from successful sales efforts, which require hard work, diligence, skill, persistence, competence, and leadership. Your income will depend upon how well you exercise these qualities.
 As QuiAri is in its first year of business operations, we do not have sufficient statistical data to prepare complete, first-year income disclosures. A more detailed survey will be conducted after our first year of business. If income projections were presented to you prior to your enrollment, such projections are not representative of the income, if any, that you can or will earn through your participation in the QuiAri Compensation Plan.
Recommended Distributors QuiAri