MLM Leader Vishal Lama From India Joins QuiAri
February 27, 2020
By Team Business For Home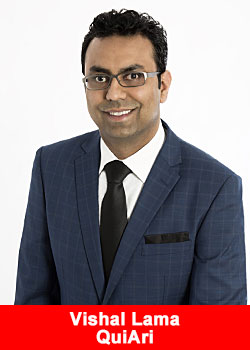 Imagine moving over 7500 miles away from your home to start fresh in a foreign country with very little knowledge of the culture or language and no job prospects.
Most people would see it as a big risk, but not QuiAri Promoter, Vishal Lama. He saw it as an opportunity. After graduating from college in India, Vishal moved to the suburbs of Toronto with the hopes of becoming an engineer.
When he struggled to find a job in engineering, he turned to the insurance industry, where in just a few years time he saved up enough money to start his own company. Life as a small business owner was good for Vishal.
He soon he found himself managing a small team and earning six figures. Despite his success, Vishal felt like he was destined to do more with his life. A close friend asked him to join an MLM company as a favor. That decision ultimately changed his life. Within 3 years he was one of the highest- ranking associates in the entire global company. Vishal left the insurance industry and decided to pursue direct selling full-time. After learning more about QuiAri, he saw an incredible opportunity to take his success to a whole new level.
"For the first time in my career I have the opportunity to help people not just financially, but also with their health.  I've been successfully promoting the 90-Day Kickstart Challenge all over the world, but recently my focus has been on India. We're very serious about expansion. I'm actually helping QuiAri open an office in Mumbai,"
stated QuiAri Promoter, Vishal Lama.
 QuiAri CEO and Founder, Bob Reina believes India has enormous growth potential and is looking forward to taking the Kickstart Challenge to new heights in all of India's 4,000 cities.
"I'm proud of the work Vishal is doing. I have full confidence in his abilities to share the 90-Day Kickstart Challenge. With the results I'm seeing, I have no doubt QuiAri will become the largest health and wellness brand in India,"
stated QuiAri CEO and Founder, Bob Reina.
QuiAri's overnight success has put the company in a unique position to accelerate their plans for international expansion. Vishal believes in QuiAri's outstanding leadership team driving the success of the 90-Day Kickstart Challenge. Bob Reina has assembled a team with over 100 years of combined MLM experience.
From global operations experts to Emmy-winning videographers, the most innovative minds in the industry are moving the company forward with the goal of becoming the fastest company in history to become a billion dollar brand. Their plan seems to be working. In just the last 5 months, QuiAri has developed plans to open international offices across Africa, Asia, Europe, and South America.
"QuiAri proves every day why they deserve to be the #1 health and weight loss movement in the world. Bob Reina is the only CEO with the skills, resources, and experience to build a business that could scale up this quickly. We are not following a traditional path to success, and I find it very inspiring," said Vishal Lama.
Being an industry leader means more than just following the latest trends. QuiAri is breaking new ground as the first health and wellness MLM company to lead with their 90-Kickstart Challenge featuring their superstar ingredient maqui, the world's new #1 superfruit. MaquiX™ our exclusive extract that boosts the antioxidant power of the berry and the proprietary synergistic blend of ingredients has contributed to the results of the Challenge and the results have been impressive to say the least.
QuiAri's social media feed is filled with testimonials from people that are not only losing weight, but gaining energy and improving their overall health. The excitement and loyalty surrounding the brand has increased QuiAri's roster of both Customers and Promoters. Especially with a revolutionary Comp Plan that includes Same Day Pay, that commissions paid within 5 minutes of each sale, the QuiAri opportunity is changing lives.
"Same Day Pay is the miracle many families have been waiting for, especially in India. No other company in the health and wellness industry offers payment that quickly. In fact, we aren't aware of any company in any industry in India that pays that quickly. The QuiAri opportunity is a gamechanger, not just in India but all over the world,"
said Vishal Lama.
 As for QuiAri's future, Vishal only sees the demand for QuiAri products rising. In 2018-2019 the MLM industry grew 13% in India alone. With QuiAri's unique product offerings and success stories, they have an opportunity to capture a large share of the market.
"In the next 5 years I see QuiAri serving as the gold standard of how MLM companies should integrate their business into international cultures. With the right mindset, our Promoters can help improve the health and wealth of an entire nation. As you can probably imagine, this is an exciting time for everyone on the QuiAri team," stated Vishal Lama.
About QuiAri
QuiAri provides life-changing opportunities that empower people to feel their best so they can live their best. Their breakthrough health and wellness products are made from an exclusive extract of the maqui berry, the world's new number 1 superfruit. Plus, QuiAri offers opportunities to receive Same Day Pay just by sharing their products with others. Try. Love. Share!
To learn more about QuiAri, or to get in touch with a Promoter, visit QuiAri.com.
These statements have not been evaluated by the Food and Drug Administration. These products are not intended to diagnose, treat, cure or prevent any disease.
Income Disclosure Statement
Please note the QuiAri business opportunity offers unlimited income potential. However, QuiAri makes no guarantee of financial success. Success with QuiAri results only from successful sales efforts, which require hard work, diligence, skill, persistence, competence, and leadership. Your income will depend upon how well you exercise these qualities.
 As QuiAri is in its first year of business operations, we do not have sufficient statistical data to prepare complete, first-year income disclosures. A more detailed survey will be conducted after our first year of business. If income projections were presented to you prior to your enrollment, such projections are not representative of the income, if any, that you can or will earn through your participation in the QuiAri Compensation Plan.
Recommended Distributors QuiAri