Top Leader Hans-Joer Hartmann From Switzerland Joins Ascira
February 18, 2020
By Team Business For Home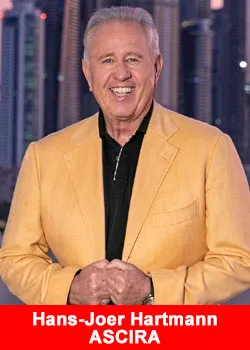 Hans-Joer Hartmann, known affectionately to his family, friends and business partners as "Happy Hartmann", proudly represents ASCIRA as an International Brand Ambassador. Mr. Hartmann believes the mission; the philosophies and ethics of any corporation will be the driving factor to a company's success.
Born in Switzerland, but now residing in Germany, Happy earned his nickname through his infectious high energy and enthusiastic outlook on life and for the people in his surrounding circle.  Happy, along with his wife Gerti, are extremely passionate about the European culture and its people.  Happy has excelled in both traditional business and in the Network Marketing arena.
Happy has mastered the art of building relationships worldwide and is passionate about delivering opportunities for an enriched lifestyle and financial freedom to the world.  Through earned trust and support he teaches people to simply open their minds, be willing to change and to focus on their dreams.
With over 29 years of career experience, Happy's portfolio is remarkable and is highly respected throughout the industry of Network Marketing.
Happy has amassed in excess of over 300,000 team members, spanning over 20 countries. He has partnered with some of the most respected iconic companies in the industry during their pioneer stages.
Loyalty, vision, focus and dedication has allowed Happy to achieve the highest available rank and top producer position in each company he has partnered with.
Happy has enjoyed the benefits of being a top income earner and assisting his business partners into this position as well.  Mr. Hartmann believes that understanding the true meaning of "passive income" and "duplication" are the keys to success. He has lived his life under the core philosophies of Success as stated by Napoleon Hill.
Happy considers his role at ASCIRA to be at the pinnacle of his business achievement where he can integrate his passions for Family, Lifestyle and Travel with his business success, and is anxious to share this vision alongside his world class partners.
About ASCIRA
Launching in March of 2020, ASCIRA will become a global leader in the field of education, direct sales and in network marketing industry. For more information on ASCIRA, you may contact us at [email protected]. For more information please visit www.ascira.com