Young Top Leader Aneska Wide Puts Organo On The Map In Africa
February 12, 2020
By Team Business For Home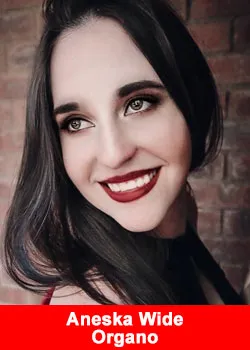 Aneska Wide, from South Africa is 22 year old and says:
By 18 I was ready to enter the market as a graduate but had no idea just how challenging it would be to find a job. All I heard interview after interview is how underqualified I was for the jobs I applied for.
After searching online, I came across an add to join a Network Marketing Company, I did some research and decided to join.
This year October I would be in the industry for four years and looking back I cannot believe the things I've achieved at only 22 years old. Network Marketing has helped me travel the world. I've been a guest speaker at many events not only in my home country South Africa, but also in the United Kingdom.
I've had the privilege to share the stage with some of the industry's greats. I've made lifelong friends from all around the world when I went to further myself at the Go Pro event in Las Vegas.
Through hard work and some challenges Network Marketing allowed me to buy my first home at only 19 years old. I was able to buy my husband his dream car and my own.
As it goes for many of us, your first company you join is not always the one you stay with. I've reached high ranks (Diamond) in 2 of my previous companies. By this time, I was tired, worn out and discouraged. No matter what I did there seem to have been an obstacle at ever hook and turn.
This pushed me to self-development even more. I now know the importance of always bettering yourself and picking yourself up – no one else will do that for you. I encourage my team on the daily to do the same and give them one on one coaching if they need it. If I can do it, anyone can do it.
Organo has been a breath a fresh air for me in the industry. The support I have received allowed me to achieve their Sapphire pin title, which is equivalent to Diamond rank in most companies, in only 2 months from joining the opportunity. Some might think it should have been easy for me; I was a leader at my previous company. It was not.
By the time Organo came around my then team of about 500 people quickly dissipated to be only me. I had to start from scratch, I had to make new connections, I had to rebuild my trust in not only my clients and prospects, but also in myself.
I could not have done this with the help of the incredible leaders and corporate teams at Organo.
My upline and downline is filled with amazing people from all over the world, some of them are even icons in the industry. It fills me with pride when I talk about my company now. No matter what obstacle I hit I know they are just a phone call away ready to assist me.
Currently Organo Africa is still launching. It is raw, it is untouched, and I am ready to help grow this market the best way I can.
About ORGANO
Founded in 2008 ORGANO is one of the world's leading producers and marketers of healthy, convenient and affordable food, nutrition, beauty and lifestyle products and services. ORGANO specializes in developing and marketing proprietary food and nutrition products, specialty brewed beverages, personal care and beauty products as well as a range of travel related products and services.
ORGANO provides superior quality, taste, and nutrition in all of its consumable products and produces and markets advanced beauty products based on proprietary botanical formulations through its "beU by ORGANO" brand. The company's unique travel related products and services are offered through its proprietary "TRAVALLA" branded cloud based SaaS platform. The company currently operates in five continents. Fpr more information please visit www.organogold.com