Daniel And Talitta Camero Achieve $1+ Million In Team Sales At ibüümerang
March 9, 2020
By Team Business For Home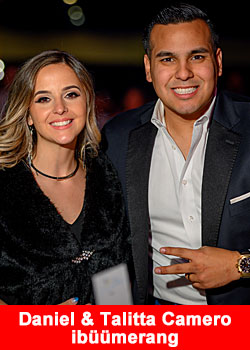 Daniel and Talitta Camero met when both were 17 years old. The location of destiny for the young couple was a salsa lounge in Atlanta called the Bella Lounge.
It was love at first sight, at least for Daniel. Talitta needed a little bit of convincing, but not much. They have now been together for almost ten years and married for four years, and just welcomed their new addition, baby Bella Grace Camero, named after the place they first met!
Before getting started in Network Marketing, Daniel was a waiter and bartender at a Mexican restaurant. Talitta worked part-time at an insurance company and family business. Just seven years ago they committed to Network Marketing.
While their overall experience in Network Marketing has been incredible, there have been points in time that the process was very challenging. For many years they did not have tangible financial results; however, they invested heavily in education and personal development. Daniel calls this investment "good debt" that changed their financial future.
Daniel and Talitta persevered and have found their purpose, passion, and the vehicle to achieve their dreams and goals through Network Marketing.
Daniel and Talitta were instantly attracted to ibüümerang because of a single factor – Leadership! As Daniel says,
"We have learned that when you choose your mentor, you choose your future, and we are absolutely certain that Holton and Earlene Buggs provide a clear picture of what our future holds."
Talitta adds,
"We love the ibüümerang model of earning income only when people save money."
The Cameros built a Diamond organization in three weeks, and in just five months, generated over $1 million in sales for the first time in their Network Marketing career. The success tip they like to share is simple: Don't focus on your challenges; focus on your dreams.
Daniel and Talitta believe that Millennials have a significant impact on the economy through a lifestyle of fun, travel, independence, and freedom. This goes hand-in-hand with the culture and opportunity that ibüümerang has created – Holton Buggs developed the concept of monetizing savings.
The Millennial generation is primed to be the leaders in bringing this new concept to the world. Millennials insist on living life on their own terms and ibüümerang is the vehicle to lead the way.
About ibüümerang
Officially launched on September 1, 2019, ibüümerang is taking an evolved approach to direct selling by leveraging a unique combination of technology and services to support Ambassadors to succeed.
Our vision is to be a consumer-centric company focused on the philosophy of giving back. Our mission is to create a worldwide movement to empower people via the PRIB™ (Perpetual Residual Income Builder), to leave a legacy to future generations, and to support The BüüM Foundation in providing an abundant life for every child on the planet.
For more information on ibüümerang, its top tier executive team, and its overarching philosophy, please visit the company website at www.ibuumerang.com.
Recommended Distributors iBuumerang