Dr. Muhammad Syafiq Abdullah Joins ASCIRA
March 20, 2020
By Team Business For Home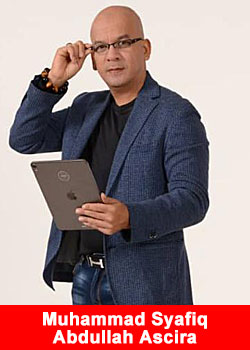 Dr. Muhammad Syafiq Abdullah proudly represents ASCIRA as an International Brand Ambassador.
Dr. Syafiq provides ASCIRA with proven leadership, tremendous industry experience, and an innate understanding of the needs of people around the globe. His grasp of the power of intelligent technology and the delivery of world class products to the global marketplace are his keys to successful e-business.
Dr. Syafiq's impressive education portfolio includes a Doctorate (PhD) in Business Administration in Entrepreneurship, a Master's degree of Business Administration (MBA) and a Bachelor of Science (BSc) in Technology. On the business side, his resume includes pinnacle positions as CEO and President in two separate Hong Kong based Technology and Digital Marketing Companies.
In 2017-2018, Dr. Syafiq earned top achievements in an Affiliate Marketing Company with over $45 million in sales, and he developed a team of over 100,000 members creating top key leadership in the Asian marketplace spanning Malaysia, Indonesia, Thailand, Singapore, Vietnam, Myanmar, China and India.
Dr. Syafiq believes that we are truly at the intersection of the e-development era in these ever-changing technological times and that the future of intellectual distribution has arrived.  He understands that the transition from offline to online business has become the new economic model.
Dr. Syafiq states "If you stay comfortable, you will never be exceptional; the time has arrived for the entrepreneur to think without a box".
With personal philosophies that revolve around the "Power of Giving", Dr Syafiq believes that ASCIRA'S creation of mastermind of alliances combined with innovative collaborations has given the world a platform for the new era of Netpreneurs to rise and wealth sharing to occur.
About ASCIRA
Launching in March of 2020, ASCIRA will become a global leader in the field of education, direct sales, and in the network marketing industry. For more information on ASCIRA, you may contact us at [email protected] For more information, please visit www.ascira.com
Recommended Distributors Ascira