Dr. Obom Bowen Joins ASCIRA
March 1, 2020
By Team Business For Home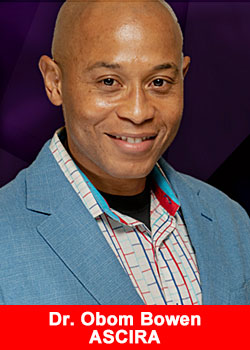 Dr. Obom Bowen proudly represents ASCIRA as International Brand Ambassador.
Dr. Bowen truly believes it is essential to understand how our minds function – how we achieve the habits, attitudes, and beliefs that may stand in the way of releasing our vast inner potential and leading fulfilling and purposeful lives.
Born and raised in Georgetown, Guyana, Obom Bowen is a 20-year retired Decorated United States Marine, who received a Purple Heart as an Infantry Commander for his service and wounds sustained in combat.
Scholastically trained as an MD, MBA, Ph.D., and a Doctor of Divinity, his expertise has helped global Fortune 500 companies, including Chevron, Wal-Mart, Walgreens, Intel, and many others in development to their success.
Hailing from very humble beginnings, Obom achieved success as a Master Career Strategist and a consummate entrepreneur who has a passion for studying human behavior, personal development, psychology, and philosophy while creating strategies that work in assisting individuals to break through psychological barriers that hold them back.
He has developed unique strategies for confidence building, career coaching, executive coaching, and strategic consulting including, but not limited to, personal development initiatives, life coaching, helping organizations and companies build cohesion culture, production, corporate training, and development, with an overall goal of reduced cost and increased profits.  Dr. Bowen is the CEO of a world-renowned training company.
Obom's passionate expertise in helping individuals achieve business and life success combined with his 15 years of experience in Network Marketing landed him collaborations with: Success from Home magazine in 2012, 13, 14, and 15.
Dr. Bowen's accomplished resume includes appointed positional expertise with highly recognized organizations, including World Civility Ambassador – I Change Nations – 2019; Global Human Potential Authority – United Nations – 2019; and he was also the recipient of Global Inspirational Award – Generation Leader 2019.
Obom has been featured on Fox News, KUSN, SIGN-ON San Diego, and was also featured in Top Coastal news, Union-Tribune, and has spoken and taught as a Facilitator for NVTSI, Reboot and several colleges and universities including UCLA, UCSD, and Central Texas College.
Obom's mission is to help Entrepreneurs bring their best work to the world. He believes that the ASCIRA Educational Academy will complement his journey in assisting individuals to recognize the wellspring of potential that exists within them and show them a better way of being who they truly are meant to be.
About ASCIRA
Launching in March of 2020, ASCIRA will become a global leader in the field of education, direct sales, and in the network marketing industry. For more information on ASCIRA, you may contact us at [email protected] For more information, please visit www.ascira.com
Recommended Distributors Ascira