Industry Leader Milad Safiyari From Georgia Joins ASCIRA
March 22, 2020
By Team Business For Home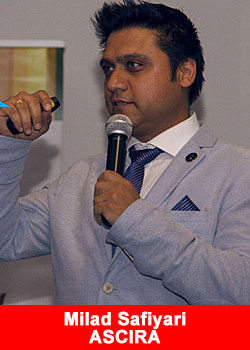 Top industry leader Milad Safiyari is excited to be joining John Sachtouras and the team at ASCIRA.
With over 20 years of experience in the Network Marketing industry, Milad has developed a great understanding of global cultures and has built powerful organizations around the world. Born in Iran, he set out to pursue his dreams and now lives in Tbilisi, Georgia with his wife and daughter.
Mr Safiyari's appetite for success and his willingness to work hard has allowed him to develop phenomenal leaderships skills.  His pure enthusiasm has led Milad to reach an impressive range of successes and some of the highest achievement ranks in our industry.
He has built large organizations spanning over 15 countries and partnered with some of the top leaders on the globe. Milad's signature skills revolve around educating and training teams in multiple languages including English and Persian.  
Milad is passionate about working with and developing individuals that are new to the industry of Networking Marketing.  He understands that by providing them with support, proper data, tools and a duplicatable system he can guide them towards reaching their goals and dreams.
Milad believes that success is always dependent on the individual. His mantra is: "If it is to be, it is up to me". He takes the "dependent" individual and guides them to be "independent " so that they can duplicate and replicate themselves to greater success and take control of their own lives.
 He acknowledges that ASCIRA that will provide him with a platform to grow in knowledge and expand his own personal development journey and that enhancing these attributes will guide him to further successes. The ASCIRA Leadership branding will allow him the opportunity to become a global mentor and a bestselling author.
Milad understands that being connected with foundational leadership and having the ability to share desired products that appeal to the masses is the key to success in our industry. He believes that the timing of ASCIRA is simply on point and he encourages people to live larger than life, dream big, and to set their goals high. With the ASCIRA platform and his enduring mentoring skills, he will help everyone achieve their pinnacle point.
About ASCIRA
Launching in March of 2020, ASCIRA will become a global leader in the field of education, direct sales, and in the network marketing industry. For more information on ASCIRA, you may contact us at [email protected] For more information, please visit www.ascira.com
Recommended Distributors Ascira