Industry Leader Dianne Solano High Impact Leadership In Organo
March 5, 2020
By Team Business For Home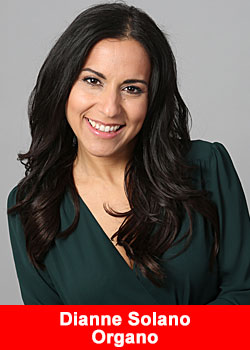 Impact, freedom, and possibility, the story of Dianne Solano from Canada.
ORGANO's Dianne Solano is an outstanding example of high impact leadership and extraordinary dedication. Dianne is a native of Toronto, Canada and has achieved and maintains Diamond Distribution Partner status with ORGANO. Dianne has been laser focused on setting and achieving her goals on a consistent basis since being introduced to the ORGANO experience in 2015.
Dianne has always been passionate about nutrition, studying Nutrition and Natural Medicine in Toronto. Her interest in human wellness has taken her to explore and focus on the field of brain function and quantum physics, teaming up with global team leader Dr Joe Dispenza.
Before ORGANO, Dianne often woke up feeling anxious.  Her mind was flooded with financial concerns which made it hard to focus. It was on one of those nights in 2015, when she was introduced to the ORGANO experience.  Dianne recognized the potential of the ORGANO opportunity and has never looked back.
Dianne says,
"In the summer of 2015, I was struggling with emotional trauma and financial stress because of a broken relationship. As a single mom, I was in survival mode looking for financial security that would provide me with time, location, financial and especially… EMOTIONAL FREEDOM.

Once I started doing the "work" within myself I reconnected with my mentor in Natural Nutrition and Medicine, Dr. Bob Rakowski who happened to be lecturing in Toronto Canada. I approached him asking for advice on HOW I could stay in the field of Health and Wellness and really make a substantial income, and that is when he introduced me to ORGANO".
Teaming up with ORGANO to help the company grow around the world was a no brainer from the start for Dianne. She first tried the ORGANO products.  The fantastic experience with the products is what compelled her to pursue a career with ORGANO through the opportunity.  Later on, Dianne was inspired to grow as entrepreneur into the leadership ranks at ORGANO to help others pursue their entrepreneurial aspirations.
"The ORGANO flagship product of Ganoderma infused coffee was such a great fit for what I stood for in Health and Wellness. I have never seen anything like this and in my 20 years of practice never did I have such a demand and consistent re-orders on a product before."
But the journey wasn't easy, it took Dianne seven months to reach the ORGANO Ruby rank, a personal milestone she had set for herself, not only as a deadline but also as a motivation factor to help her focus and do what was necessary to achieve her goal. Once she did it, Dianne stayed hungry and kept on aiming high.
"When I was starting, there were many moments I wanted to give up as I did not really know much about the direct selling profession, but I kept on going, inspired by the successes I saw around me, I never gave up despite the judgments and opinions of others.

I was intentional about living the law of association and surrounded myself with people who were achieving the success I wanted. I simply stayed plugged into the ORGANO leadership and did what they did."
It is precisely the idea of positive association and community that has propelled Dianne to be one of the most well respected and successful ORGANO Distribution Partners globally.
Dianne, attributes much of her business success to the leadership and mentoring of ORGANO Diamond Dr. Bob Rakowski.  Dr. Rakowski has been her primary role model since teaming up with ORGANO back in 2015.  Dianne has made sure to follow his example as he creates a once in a lifetime type legacy, creating her own in the process. Every year Dianne has reached her goal to earn the annual ORGANO Getaway Vacation trip.  She is also the first qualified ORGANO Diamond Distribution Partner in Toronto, Canada.
"On the road to success, I started to outsource tasks that were taking away from my time and focused on income-producing activities. The biggest reward of all this work has been the impact we have had on many people's lives along with the financial stability I now enjoy. The secret is to be hungry, coachable and become a solution seeker. Being a contributor and a team player in your organization is key. If you are not attracting people by showing up in your greatness then you are repelling them".
Now, as a Diamond, her eyes are set on achieving the ORGANO Blue Diamond qualification this year.  Dianne will continue to grow a heart-centered and integral team.  She will continue to have a positive impact on the world by creating abundance, expansion, and by helping people connect to the highest version of themselves.
"Persistence, creativity and staying coachable and hungry definitely drove me to the top. I aim to continue developing an inspired team with influential leaders who lead with their hearts and have integrity."
About ORGANO
Founded in 2008 ORGANO is one of the world's leading producers and marketers of healthy, convenient and affordable food, nutrition, beauty and lifestyle products and services. ORGANO specializes in developing and marketing proprietary food and nutrition products, specialty brewed beverages, personal care and beauty products as well as a range of travel related products and services.
ORGANO provides superior quality, taste, and nutrition in all of its consumable products and produces and markets advanced beauty products based on proprietary botanical formulations through its "beU by ORGANO" brand. The company's unique travel related products and services are offered through its proprietary "TRAVALLA" branded cloud based SaaS platform. The company currently operates in five continents. For more information, visit organogold.com