MLM Leader Precious Mulendema From Zambia Joins QuiAri
March 22, 2020
By Team Business For Home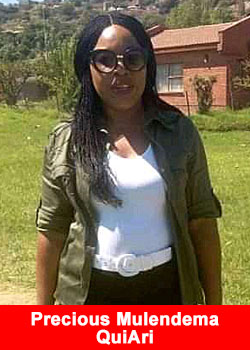 According to an QuiAri press release:
Scroll through QuiAri's social media pages and you can easily find example after example of people losing weight and gaining energy with the help of the 90-Day Kickstart Challenge. With testimonials coming in from around the world, the health benefits are undeniable. However, those that choose to promote the Kickstart Challenge are enjoying the opportunity to improve their financial situation as well. QuiAri Promoter, Precious Mulendema is a former elementary school teacher who has found success promoting the Kickstart Challenge in Zambia.
"Zambia's economy is volatile to say the least. When I was an elementary school teacher I was always worried about getting sick and losing my job. I started in the network marketing industry to make extra money and I discovered I had a natural talent for promoting. I started making enough to pursue MLM opportunities full time.

I had heard about QuiAri, but didn't know much about it. That was until my very persistent friend made me try a sample — and I'm glad they did. It was so delicious, I couldn't believe it! After my friend showed me the Kickstart Challenge video.  I realized this was no ordinary MLM company,"
stated QuiAri Promoter Precious Mulendema.
QuiAri has been the right fit for Precious.  She enjoys being her own boss, having time for her family, and having the opportunity to earn residual income from her team. Plus, Precious has access to more benefits than she's ever had before.
"QuiAri's CEO and Founder, Bob Reina is such an inspiring leader and keeps everyone on the team excited and engaged with weekly broadcasts and social media groups. Plus, QuiAri is the only health and wellness company in the world with Same Day Pay. We get commissions paid within 5 minutes after a sale, often times even faster.

I also love the streamlined, state-of-the-art technology we have at our fingertips. From the Back Office to the mobile app that goes 'cha-ching" after every sale, it's very user-friendly and reliable,"
said Precious.
Precious has said that business has been good in Zambia, but she's not one to "be lazy and rest on her success." She recently added new Promoters located in South Africa, Malawi, and Congo to her QuiAri team. CEO and Founder, Bob Reina, believes Precious has the potential to help make QuiAri the #1 direct sales company in Zambia.
"Precious has been in the MLM industry for 12 years and it shows. She has an incredible work ethic, and as a former teacher, she has the right skills and attitude to be a valuable mentor to her Promoters.  I also find her to be very comfortable in a leadership role, which is exactly what we need right now to grow our brand in Zambia,"
said CEO and Founder, Bob Reina.
QuiAri's rapid growth throughout Zambia and the rest of the world is helping Precious build her network quickly and set ambitious goals for the future. Currently, her top priority is to introduce QuiAri to the many people who need help making ends meet.
"I'm 100% committed to QuiAri and having lots of fun promoting the Challenge. People can tell right away that I'm excited about it.  I don't usually brag about MLM companies, but QuiAri deserves every bit of the praise. Not only have I found a great leadership team to promote with, but in my opinion, the executive team is the best in the industry,"
said Precious Mulendema.
About QuiAri
QuiAri provides life-changing opportunities that empower people to feel their best so they can live their best. Their breakthrough health and wellness products are made from an exclusive extract of the maqui berry, the world's new number 1 superfruit. Plus, QuiAri offers opportunities to receive Same Day Pay just by sharing their products with others. Try. Love. Share!
To learn more about QuiAri, or to get in touch with a Promoter, visit QuiAri.com.
These statements have not been evaluated by the Food and Drug Administration. These products are not intended to diagnose, treat, cure or prevent any disease.
Income Disclosure Statement
Please note the QuiAri business opportunity offers unlimited income potential. However, QuiAri makes no guarantee of financial success. Success with QuiAri results only from successful sales efforts, which require hard work, diligence, skill, persistence, competence, and leadership. Your income will depend upon how well you exercise these qualities.
 As QuiAri is in its first year of business operations, we do not have sufficient statistical data to prepare complete, first-year income disclosures. A more detailed survey will be conducted after our first year of business. If income projections were presented to you prior to your enrollment, such projections are not representative of the income, if any, that you can or will earn through your participation in the QuiAri Compensation Plan.
Recommended Distributors QuiAri