Rwanda's MLM Industry Leader Murangira Fred Nyakana, Joins QuiAri
March 17, 2020
By Team Business For Home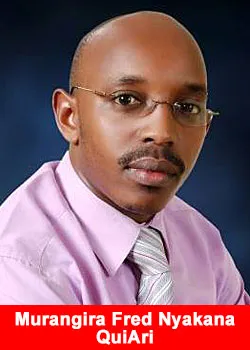 When the company first launched, some industry experts believed QuiAri's plan for expansion was too ambitious.
Now, 5 months later, CEO and Founder, Bob Reina has single-handedly rewritten the rules of the MLM industry by creating the next international health and wellness phenomenon at a record-setting pace.
"The overwhelming success of QuiAri is providing opportunities to dominate markets faster than we anticipated, like Rwanda. Our lead Promoter, Murangira Fred Nyakana, is a very successful MLM industry veteran that heard about QuiAri through all the buzz we have generated throughout Africa.

Murangira used to be the CEO of an African heath and wellness MLM and connected with QuiAri because he genuinely wants to help people look and feel better. I think his leadership will help us become the  #1 MLM in Rwanda. I'm excited to have him on the team,"
stated CEO and Founder of QuiAri, Bob Reina.
Murangira has spent the last 10+ years in Kigali, Rwanda. His success as a CEO and in distribution for various MLM companies has all  happened very fast, which he believes is the result of having good mentors early on in his MLM career.
"I learned quickly in my MLM career to let go of all of my fear and intimidation of the direct selling industry. I tell all new Promoters looking to duplicate my success to stay persistent, determined, and open-minded. Believe in yourself and believe in the system. Confidence is so important in getting Customers and Promoters energized and excited about your products,"
stated Murangira Fred Nyakana.
As a QuiAri Promoter, Murangira sees a once-in-a-lifetime opportunity to bring the 90-Day Kickstart Challenge to Rwanda and other countries in need of better health and wealth. He feels that growth is only going to be more explosive with each day that passes.
"Anybody that hesitates to join QuiAri is on the verge of missing out. I've spoken to the executive leaders, examined the Comp Plan, analyzed QuiAri's growth potential. They exceeded my expectations on every level. Everything they do is revolutionary, even the speed in which they pay Promoters,"
said Murangira Fred Nyakana.
QuiAri is the first company in the entire health and wellness industry to feature Same Day Pay, that's commissions paid within 5 minutes after each sale. Murangira believes that QuiAri and Same Day Pay will only positively impact Rwanda's economy. According to WorldFinance.com, Rwanda's GDP has grown 7.76% in the last 20 years. The government has been open-minded to change, funneling resources to improve education and technology.
"Rwandans embrace science, technology and progressive thinking. For example, we're using drone technology to deliver blood in remote areas of the country and we're working to fix gender inequality. Our Parliament consists of over 61% women, which is significantly higher than most countries, even the U.S.

QuiAri is a progressive company with revolutionary products, which fits right into our culture. The Kickstart Challenge products are much different than anything else on the market today. People here are seeing real results from real people and they want to take – and promote – the Challenge. I'm actually on the products now and I feel fantastic," said Murangira Fred Nyakana.
 Ultimately, Murangira would like to see everyone in the world take the Kickstart Challenge. He is very proud to be part of a company with great leadership, unique products, and a willingness to empower their people.
"Quiari is the first company I've experienced that really cares about its international Promoters and Customers. Although we are thousands of miles away, Bob makes it a point to keep everyone in the company connected. We are updated daily on everything from new product testimonials to global expansion efforts and even new marketing materials. Even Customers are welcome on the global calls. Our confidence and trust in QuiAri and the Kickstart Challenge is at an all-time high," said Murangira Fred Nyakana.
In the next few years, Murangira predicts QuiAri's success will only continue to grow. He is very excited to currently be helping QuiAri open their first office in Rwanda and cannot wait to have a space to further introduce the Kickstart Challenge to Customers and Promoters.
"I believe in the products, the leadership, and the incredible resources we have to build our business. We're the hottest health and wellness company in the world right now. I'm proud to be part of this revolutionary movement that is sweeping the globe,"
said Murangira Fred Nyakana.
About QuiAri
QuiAri provides life-changing opportunities that empower people to feel their best so they can live their best. Their breakthrough health and wellness products are made from an exclusive extract of the maqui berry, the world's new number 1 superfruit. Plus, QuiAri offers opportunities to receive Same Day Pay just by sharing their products with others. Try. Love. Share!
To learn more about QuiAri, or to get in touch with a Promoter, visit QuiAri.com.
These statements have not been evaluated by the Food and Drug Administration. These products are not intended to diagnose, treat, cure or prevent any disease.
Income Disclosure Statement
Please note the QuiAri business opportunity offers unlimited income potential. However, QuiAri makes no guarantee of financial success. Success with QuiAri results only from successful sales efforts, which require hard work, diligence, skill, persistence, competence, and leadership. Your income will depend upon how well you exercise these qualities.
 As QuiAri is in its first year of business operations, we do not have sufficient statistical data to prepare complete, first-year income disclosures. A more detailed survey will be conducted after our first year of business. If income projections were presented to you prior to your enrollment, such projections are not representative of the income, if any, that you can or will earn through your participation in the QuiAri Compensation Plan.
Recommended Distributors QuiAri