Touchstone Essentials Celebrates 8 Years With Record Growth
March 14, 2020
By Team Business For Home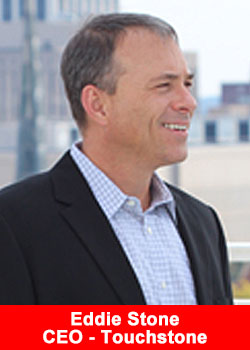 In 2012, Touchstone Essentials was born with a commitment to clean ingredients, organic practices and sustainability after CEO and Founder, Eddie Stone researched and discovered that many of the same problems found in Big Food—pesticides, ultra-processed ingredients and toxic additives—were also found in most "health" supplements. Eddie says,
"I realized that the majority of supplements were actually anything but healthy. I knew that needed to change for not just my family, but for everyone's family. We all deserve better."
When Touchstone Essentials debuted, they were faced with steep skepticism from entrenched industry interests, while being welcomed as a breath of fresh air by consumers. Eddie remembers,
"When we started, we were going up against monolithic corporations with little regard for the impact of toxins and ultra-processed products on people's health, so demanding organic, clean, natural ingredients for supplements turned out to be a revolutionary act."
 Over the past decade, the culmination of a rising demand in food transparency, the mainstream adoption of organic products and a growing appetite for plant-based alternatives has led to a powerful shift in our global mindset. Now, people are starting to demand the same standards for their supplements as they do for their food—and the business of goodness is booming.
Eddie says, "When we started out, we were looking for people that shared a belief that nutritional supplements should be clean, organic and natural. It's clear now there's a momentum driving what we're doing. There's a huge demand in the public marketplace for it."
According to Eddie, 2019 was Touchstone Essentials' best year—by double. He says,
"Last quarter was also the best quarter we've had in our history, and last month, February, a short month in fact, was the best month by every indicator possible in our company's history."

 "All of this is really part of a larger goal to impact one million families not only with the message of health and the role it can play in happiness and peace of mind, but also with a vehicle for financial growth and independence."
In a recent live video broadcast Eddie celebrated the 8th anniversary of The Good Inside with optimism, anticipation and a heartfelt message of gratitude. He shared the following message with all Touchstone Essentials' customers and Visionary Business Owners (VBOs),
"I feel fantastic about where we are today but I'm also excited about our future. I'm very proud of where our culture is and our shared mission to impact community on a global scale.

You're the wind that blows us around the globe—and we are around the globe. We are so proud and so thankful and so humbled by your support day in and day out." 
Touchstone Essentials was founded in 2012 by 30-year industry veteran, Eddie Stone, with a vision of organic goodness accessible to everyone. They ship to over 60 countries around the world. Touchstone Essentials has been experiencing double-digit growth over the past 3 years and with the launch in of the organic CBD hemp oil line, things have started reaching critical mass.
They describe themselves as proud rebels with a cause, offering products for Daily Detox, Organic Superfoods, and CBD. When you join as a VBO, you become a visionary business owner. As a VBO, you're the CEO of your own empire, but you're not alone. Touchstone Essentials offers an advanced digital marketing system with a trove of resources, all at no additional cost. This includes a TheGoodInside.com e-commerce site, blog, and e-newsletters, social media retargeting and more. For more information please visit www.thegoodinside.com