Touchstone Essentials' Top Leaders Bask In Sunshine, Success And Solidarity
March 7, 2020
By Team Business For Home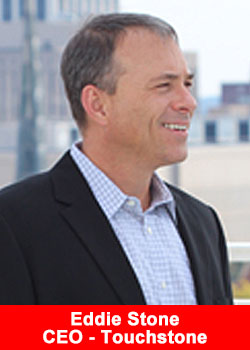 It was a Valentine's Day to remember as Touchstone Essentials' top Visionary Business Owners [VBOs] were whisked away on a dazzling, all-inclusive Mastermind Reward Trip to Akumal on Mexico's Riviera Maya, in the heart of the Yucatan Peninsula.
Touchstone Essentials' CEO and Founder Eddie Stone says,
"We wanted to show our appreciation for the teams that are driving our growth and success. Akumal could not have been a more beautiful backdrop to connect with these incredible like-minded people."
Staying at the idyllic luxury resort, Secrets Akumal Riviera Maya, guests were treated to five days of sun-soaked beaches, premium snorkeling in crystalline seas, world class spa and pampering services, a variety of sumptuous gourmet cuisines and dreamy sanctuary suites with mesmerizing views.
VBO Jana Clinton reminisces,
"We were whisked off from the airport in a private car and greeted with champagne and hugs. It was amazing—the community and the smiles, the dancing, the snorkeling, the kayaking and even karaoke."
But beyond the exquisite accommodations and unforgettable experiences, a strong sense of community flowed freely throughout the week and the relationships forged continue to flourish.
"The thing my husband noticed the most were the people and the smiles," says Clinton. "He now has friends from the community that he can't wait until our next event to see and go golfing with. To be there in person, you can see the quality of people and feel the connection we share."
Many attendees echoed her sentiments. According to VBO Alan Newell, the location was great, but the company made it even better.
Alan says,
"I have traveled to many amazing places in my life and I must say that Secrets Akumal is one of the finest resorts I have ever stayed. With that said, it would not have been the same without the amazing people that we had the pleasure of spending time with. The camaraderie, wisdom, friendships and of course the memories that we made will last a lifetime!"
For VBO Debbie Stella, this was the trip that transformed her supportive significant other into a passionate business partner. Stella reflects on her experience,
"This is a family-oriented business which means a lot to me. You could see the love for one another, but the biggest thing for me was bringing Mark on board. He was always supportive, but now we're building this business together and having fun doing it. Akumal was more than a vacation. It solidified that I chose the right company to call my home."
 Eddie Stone couldn't agree more. According to him, these trips are not just about rewarding success. They're about fostering relationships, learning from one another and reinforcing the unified message of bringing goodness to one million families.
Eddie Stone says,
"From engaging group discussions to little pearls of wisdom dropped in poolside conversations, when you're surrounded by passionate people with a common purpose, it's electrifying. The recap video says it all. These people are the heart of this business, and to see how deeply they care about what we're trying to do fills me with gratitude, optimism and hope for our future."
Touchstone Essentials was founded in 2012 by 30-year industry veteran, Eddie Stone, with a vision of organic goodness accessible to everyone. They ship to over 60 countries around the world. Touchstone Essentials has been experiencing double-digit growth over the past 3 years and with the launch in of the organic CBD hemp oil line, things have started reaching critical mass.
They describe themselves as proud rebels with a cause, offering products for Daily Detox, Organic Superfoods, and CBD. When you join as a VBO, you become a visionary business owner. As a VBO, you're the CEO of your own empire, but you're not alone. Touchstone Essentials offers an advanced digital marketing system with a trove of resources, all at no additional cost. This includes a TheGoodInside.com e-commerce site, blog, and e-newsletters, social media retargeting and more. For more information please visit www.thegoodinside.com