MLM Leader Iqbal Singh Maan from India Joins QuiAri
April 22, 2020
By Team Business For Home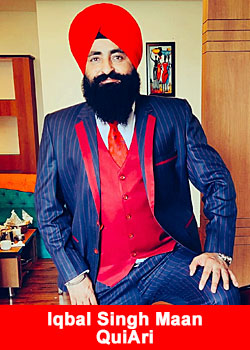 QuiAri Promoter, Iqbal Singh Maan has only been in the Direct Selling industry for 5 years, but he has been a successful businessman for his entire life.
Prior to his MLM career, Iqbal was in the restaurant business in his hometown of Amritstar, India. It brought him the wealth he desired, but at a steep price.
"I loved the people I work with and all of the customers, but it was exhausting. I was at the restaurant 7 days a week. I hardly ever spent time with my family.  I turned to the MLM industry because it is the most powerful platform for anyone to build a global business  and it provided me with the time freedom I desperately needed,"
stated QuiAri Promoter Iqbal Singh Maan.
He learned about QuiAri's 90-Day Kickstart Challenge from his friend, QuiAri Promoter Vishal Lama. Vishal is originally from India, but currently lives in Canada. As they were catching up, Iqbal mentioned that he had put on a few pounds since they last saw each other.
"Vishal told me all about QuiAri's 90-Day Kickstart Challenge and shared all of the incredible testimonials featured on social media. It seemed easy to do, so I tried it. I couldn't believe it. By the end of the Challenge I had lost 15 pounds,"  
After having success with the products, Iqbal's friends and family started noticing the difference. Not only was he slimmer, but his energy levels were way up.
"I had such a good experience with the Challenge I decided to become a full-time QuiAri Promoter. Everyone should have an opportunity to feel this good. I can go the whole day with no coffee or energy drinks without feeling the crash and my wife even said I look younger. There is no greater compliment than that, right?"  said Iqbal Singh Maan.
As a QuiAri Promoter, Iqbal has exclusive benefits no other health and wellness companies can provide. He said that one specific benefit has completely changed his life – Same Day Pay.
"QuiAri is the only health and wellness company in the world that pays commissions within 5 minutes after every sale. In other MLM companies I felt like I was always waiting to get paid. I found myself postponing big purchases until I got my check. Now if I need something, like a new smart phone, I can use my commissions to help pay for it. Everything is loaded on my personal QuiAri-branded Visa debit card and I can use it anywhere Visa is accepted,"
said Iqbal Singh Maan. 
Iqbal's plan is to save all of his commissions for a down payment on his dream house. He wants to help others do the same by becoming QuiAri Promoters.
"I got into this business to help people. How many people do you know that say they don't have the time to take care of themselves? I personally know a lot! That's why I love QuiAri. I made money while losing 15 pounds and anyone can do exactly what I did by working hard and following the system," 
QuiAri Promoters are given unbeatable resources to help them build their global QuiAri business, like a free mobile app with real-time "cha-ching" notifications, state-of-the-art Back Office that's easy to navigate and loaded with marketing and sales materials, and more. CEO and Founder, Bob Reina is seeing leaders like Iqbal energizing their teams and taking their business to the next level.
"Iqbal is doing a great job growing the market in India and business is booming. Our global expansion is going exactly as planned. We're establishing new offices around the world, attracting major industry talent, increasing our Customer base, and positioning QuiAri as the undisputed leader in health and wellness. Iqbal has been working really hard to help us get to the top in India. I only see more growth in our future,"
said CEO and Founder Bob Reina.
 While he is enjoying his current success, Iqbal most excited about all of the new features Bob is planning.
"Communication with the corporate office is the best I've ever experienced. Recently, Bob has hosted live training broadcasts with the global team. During one of those broadcasts he revealed a free marketing tour that's coming soon. When released, it will help all Promoters generate leads 24/7, 365 days a year. That's not just in India, but worldwide. Bob predicts QuiAri will one day be a billion-dollar business. I have yet to meet anyone that thinks he's wrong,"
said Iqbal Singh Maan.
About QuiAri
QuiAri provides life-changing opportunities that empower people to feel their best so they can live their best. Their breakthrough health and wellness products are made from an exclusive extract of the maqui berry, the world's new number 1 superfruit. Plus, QuiAri offers opportunities to receive Same Day Pay just by sharing their products with others. Try. Love. Share!
To learn more about QuiAri, or to get in touch with a Promoter, visit QuiAri.com.
These statements have not been evaluated by the Food and Drug Administration. These products are not intended to diagnose, treat, cure or prevent any disease.
Income Disclosure Statement
Please note the QuiAri business opportunity offers unlimited income potential. However, QuiAri makes no guarantee of financial success. Success with QuiAri results only from successful sales efforts, which require hard work, diligence, skill, persistence, competence, and leadership. Your income will depend upon how well you exercise these qualities.
 As QuiAri is in its first year of business operations, we do not have sufficient statistical data to prepare complete, first-year income disclosures. A more detailed survey will be conducted after our first year of business. If income projections were presented to you prior to your enrollment, such projections are not representative of the income, if any, that you can or will earn through your participation in the QuiAri Compensation Plan.
Recommended Distributors QuiAri