Shayo Alofe Achieves Black Diamond Rank At Rain International
April 20, 2020
By Team Business For Home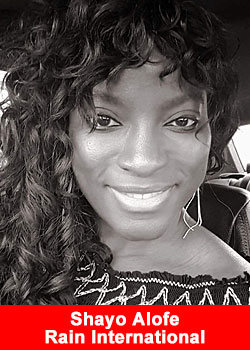 Rain International is pleased to announce yet another Black Rain Diamond, Shayo Alofe.
Shayo Alofe is a single mum of 3 amazing children, she was born and raised in Nigeria, relocated to the United Kingdom in 2002.
Shayo, in less than two years as a Rain Partner, has already built an incredible team worth boasting about (though she does none of that).  With more than 10,000 team members that span across five different countries, Shayo has created a strong, confident conglomerate of business owners that have improved the lives of many.
Russ Cowley, Executive Vice President of Rain International said of Shayo:
"She is a leader among leaders. She gives credit where credit is due. And, on top of that, she has a beautiful singing voice." It is leaders like her that allow Rain International to grow with purpose and prosperity.
Shayo's goal is to boost individuals, raise leaders, and, more specifically create five Diamonds in the next twelve months who prequalify week after week. From those Diamonds will surely come more Diamonds.
We are pleased and proud to have Rain Partners like Shayo. Congratulations again. We can't wait to see how you grow from here.
About Rain International
Rain International is the original creator of seed-based nutrition. Our experts have gone to the source of plant nutrition to formulate products proven to support healthy lives.
Rain International is more than the products we sell. From the beginning, we set out to make changes to improve the world around us starting with the health industry and moving beyond its borders into global sustainability, education initiatives, elevated lifestyles, and more. We believe that the ultimate human experience we all crave is within everyone's reach, and we don't mind leading the way. For more info please visit www.rainintl.com.
Recommended Distributors Rain International