Top Earner Dino Nedelko Resigns From Rain International
April 9, 2020
By Team Business For Home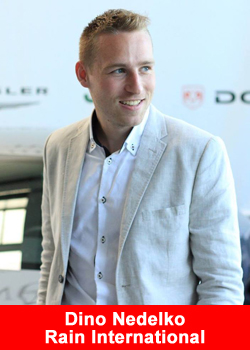 Top leader and top earner Dino Nedelko uses the "Royal way" to resign in a public letter.
With a strong team of almost 100,000 members Dino's organization generated more than 50% of Rain International sales volume.
Dino:
I am starting to write this letter with tons of memories and all the great experiences that are coming to my mind as I look back and appreciate the last 5 years of my business venture with Rain International. It is really hard to put something meaningful together because of the emotions and the connections we have been able to create together with all the business partners during this period.
Especially because all of them are now my friends. My mentors always told me that good times are here, and even better times are coming.
Every time you are ready to work hard, speak the truth, be transparent, and work for the success of others around you. No matter how hard it is to make a huge decision, listen to your heart and follow what you believe it is right to do.
My mind functions on principle. If you don't see yourself in the environment to grow and your vision is foggy you either have to clear your vision or move on and find something that will expand and cristalize your vision again.
Unfortunately, after many hours and days of thinking, discussing with our teams top leadership, friends and mentors, I came to the conclusion it is time for me to step back from active participation and day to day commitment with Rain International.
First of all, I would like to start with our amazing worldwide team that until the time of writing this statement, grew to incredible 98,440 members from all possible continents and well over 40 different countries. I am so proud of every one of you who contributed towards this amazing achievement in less than 5 years since we started. I am here today because of you all.
I will always be humble and ready to help everyone no matter where I am today comparing where I have been 5 years ago. This will never change!
I would also like to thank every single person from Rain International, from everyone in customer support, to all the country and general managers, and the entire executive team and owners. Everyone of you has played a major role to make these years of business together very special ones. Sincere thank you for all your hard work, working outside of the office hours, and going the extra step many times to help everyone in this company to achieve their goals.
I can proudly say we have all worked together as a team, and also I can proudly say that my decision is not based on the recent performance in any direction. Even as of the last few weeks, our performance kept growing every week. My decision is based on many recent changes that made me realize my vision and life mission to help millions is somewhere else.
I believe that everyone has a purpose to follow and if my passion and drive to do something are lost, I need to find the environment where my mind will start being creative again. I will always stand, speak, and preach the truth, ethics and honesty and I also expect the same from everyone else involved.
Any other stories or reasons for my decision should be verified by me as I won't allow anyone else to harm the reputation and my good name created, which I honestly believe I worked very hard for it. My goal, always, is to uplift individuals no matter the company someone is associated with.
I wish everyone nothing but the best, keep following your dreams and keep shinning!
Dino Nedelko
About Rain International
Rain International is the original creator of seed-based nutrition. Our experts have gone to the source of plant nutrition to formulate products proven to support healthy lives.
Rain International is more than the products we sell. From the beginning, we set out to make changes to improve the world around us starting with the health industry and moving beyond its borders into global sustainability, education initiatives, elevated lifestyles, and more. We believe that the ultimate human experience we all crave is within everyone's reach, and we don't mind leading the way. For more info please visit www.rainintl.com.
Recommended Distributors Rain International