VYVO Token Project, Up And Running With Incredible Numbers, After 6 Months
April 25, 2020
By Team Business For Home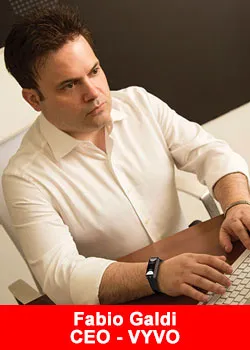 Only 6 months ago, VYVO presented an innovative project able to complete and integrate its technology offers and to project the company into a cutting-edge sector: VYVO Token.
The project, implemented to create a data streaming system based on anonymized individual health and wellness biodata, captured directly from VYVO wearable devices in real-time, is up and running. It has already registered an excellent participation success.
Hundreds of thousands of tokens have been generated and assigned to users of VYVO devices. Thousands of users have already started to receive their earnings, by transferring them unto their personal card or accounts through the Original Credit Transaction (OCT) payment method available inside the platform and using them for any payments worldwide. Soon, they will be able to use the tokens to also purchase products inside the VYVO Store.
VYVO Token, an ERC-20 Utility Token on the Ethereum blockchain, has been introduced to reward the users' participation and their disposition to generate anonymized data subsequently hashed on the Blockchain.
The project is based on a crowdsourcing approach where millions of people around the world contribute to the creation of the largest Big Data A.I. platform entirely based and secured on Blockchain technology. Today, the project is completely sustainable and growing fast.
In this first phase, more than 100 million data points are already hashed on the Blockchain. The future is promising, given the exponential growth of devices on the wrist of people all over the world.
This milestone represents a demonstration of the incredible ability to innovate and involve that this company is able to put into the field, ensuring benefits and opportunities as never seen before.
About Vyvo Inc
We are a technology and network marketing company, using technology to create innovative solutions for the personalized health and wellness market worldwide. We are focused on developing consumer-oriented products that protect, monitor and empower people to improve their health through daily knowledge and informed choices. We create customized solutions to help our customers manage their most important asset, themselves and their life.
Our technology driven mission matches our network marketing soul. We are all about expanding concepts of personal growth and development, not only focusing on health but also on prosperity and economic wellbeing. For more information, please see www.vyvo.com