Healy CEO Dirc Zahlmann To Join Sales Field As Global Master Distributor
May 22, 2020
By Team Business For Home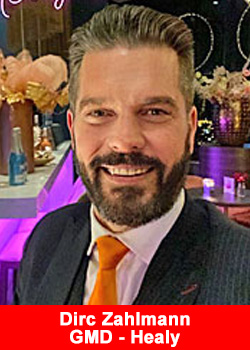 Andreas Kornberger Assumes CEO Position.
Current Healy World CEO Dirc Zahlmann has made the announcement that he will be leaving the corporate position to enter the sales field to market the Healy World line of products.
In a little over a year since inception, Healy's corporate staff has grown to more than 100, all of which will now answer to the gentleman taking over the position, Mr. Andreas Kornberger. Andreas is a 20 year veteran of various top management positions in international retail and most recently served as an associate partner with Advicum Consulting, a leading consulting, management and finance company headquartered in Vienna.
According to Mr. Kornberger,
"The needs of consumers, markets, competitors, technologies – everything changes at a rapidly growing pace. A clear and customer-oriented strategy as well as an excellent implementation of concepts are the basis for future success in the market."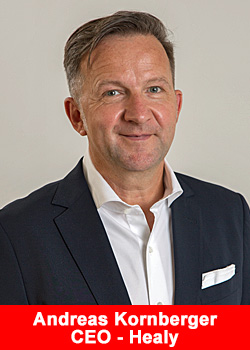 Dirc steps down to join a rapidly expanding Healy World sales field that has grown to over 60,000 members in under a year and a half. Healy World is open and fully legal to operate in over 45 countries and is currently launching one of the biggest global markets, the United States.
Dirc on his plans and vision,
"I will continue to consult the company on various matters, but my wife Sabine and I are totally committed to helping lead the way to 100 million Healy customers worldwide. Over the last year we traveled extensively at over 200 events responsible for the opening of 44 countries in just one year of operation.
Dirc Zahlmann continues:
Normally companies have this infrastructure and sales volume after 5 years in business, especially when you deal with a product that has special requirements internationally.

Now it is time to hand over the operational structure to an expert in that field and I am very confident with Andreas Kornberger taking over as CEO. His experience and guidance in building organizational structures will take us into this new decade with precision and our power to drive sales worldwide will add up the perfect match."
About Healy
Healy is the leading provider of wearable wellness technology for the Direct Selling Industry. 
Healy is a subsidiary of the internationally operating TimeWaver group. Our common vision is that all people should have the opportunity to live a holistically healthy life. Utilizing Information Field technology, over 2,000 doctors, practitioners and other therapists have used the frequency therapy of the Healy and TimeWaver systems. For more information visit www.healyworld.net
Notice: Healy is a microcurrent medical device that has been cleared by the U.S. Food and Drug Administration for local relief of acute, chronic, and arthritis pain and muscle soreness due to overexertion. Healy also has non-medical applications that use individualized frequencies to help balance your mind and body and relieve stress. Always use your Healy in accordance with its Instructions for Use.
For more information please visit: www.healyworld.net
Recommended Distributors Healy World