LifeVantage Q3 Sales Up To $56.1 Million
May 5, 2020
By Team Business For Home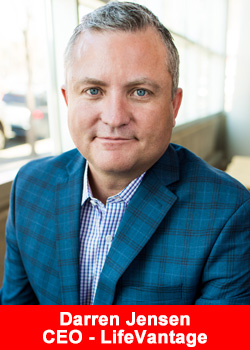 LifeVantage Corporation (Nasdaq: LFVN) today reported financial results for its third quarter ended March 31, 2020.
Third Quarter Fiscal 2020 Summary*:
Revenue of $56.1 million was up slightly from the prior year period;
Revenue in the Americas declined 0.5% and revenue in Asia/Pacific & Europe increased 1.6%;
Average revenue per account increased 8.6%;
Total active accounts decreased 3.8% sequentially to 175,000, while declining year over year by 7.4%. The sequential decline included a 2.9% decline in distributors and a 4.4% decline in customers. On year over year basis, distributors declined 2.9% and customers declined 9.9%;
Earnings per diluted share were $0.11, compared to $0.12 in the prior year period;
Adjusted earnings per diluted share were $0.13, consistent with the prior year period;
Adjusted EBITDA increased 26.4% to $5.1 million;
Repurchased $2.0 million of common shares during the third quarter of fiscal 2020; and
Strong balance sheet with $13.5 million of cash and no debt.
* All comparisons are on a year over year basis and compare the third quarter of fiscal 2020 to the third quarter of fiscal 2019, unless otherwise noted.
"We continued to generate strong gains in operating income and adjusted EBITDA during the third quarter while holding revenue consistent with the prior year period.

While the current global health pandemic has had a modest negative impact on our business activities, our operating model and the recurring revenue base inherent in our subscription model is demonstrating resiliency across our global footprint and our strong balance sheet and robust cash flow position our company very well,"
stated LifeVantage President and Chief Executive Officer, Darren Jensen.
"We are proud and appreciative of the significant effort from our employees and global network of distributors, in managing the changing and uncertain environment. We have quickly adapted to global health guidelines, and social distancing directives and have successfully and rapidly moved our global staff to working remotely. We have also successfully secured our global supply chain and continue to work closely with our production and logistics partners to ensure seamless supply for our customers.
We are fulfilling all orders and are pleased with our continued operational capabilities. Distributors have successfully migrated their sales activities to social media and video conferencing. While there has been a negative impact on new account growth, beginning initially in greater China and Japan early in the quarter, recent promotions have begun to show promising results.
We will continue to adapt our activities as necessary to drive revenue and profit growth. Despite the modest negative impact on new account growth, we remain on track to meet our fiscal 2020 expectations for adjusted EPS and adjusted EBITDA, while we now anticipate falling modestly below our previous revenue guidance range based on the business conditions we see today," continued Mr. Jensen.
About LifeVantage
LifeVantage Corporation (Nasdaq: LFVN) is a pioneer in Nutrigenomics – a new science dedicated to biohacking the human aging code. The Company engages in the identification, research, development, and distribution of advanced nutrigenomic dietary supplements and skin and hair care products, including its scientifically-validated Protandim® product line, Omega+ and ProBio dietary supplements, its TrueScience® line of Nrf2-infused skin and hair care products, Petandim™ for Dogs, Axio® energy drink mixes, and the PhysIQ™ weight management system. LifeVantage was founded in 2003 and is headquartered in Salt Lake City, Utah. For more information, visit www.lifevantage.com.
*Distributor success depends on individual diligence, work effort, and market conditions. LifeVantage does not guarantee any income or rank success. For the company's Average Annual Earnings Disclosure by rank, visit lifevantage.com.
Recommended Distributors LifeVantage