Mario And Miriam Greefhorst From The Netherlands Achieve Diamond Rank At Rain International
May 1, 2020
By Team Business For Home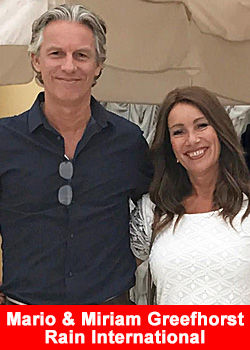 There aren't too many couples in the world of Multilevel Marketing that can claim a spot among the Diamond Ranks, but Mario and Miriam Greefhorst are the rare exception.
This power couple joined Rain International back in 2015 and, since then, have been expanding their reach and growing a massive team all across Europe.
The CEO and Founder of Rain International, Byron Belka, said this about the Greefhorst's:
"It's been a pleasure to watch the dynamic duo of Mario and Miriam work together to grow their team, hit high ranks, and inspire others. We owe so much of our growth in Europe to them and what they've been able to achieve."
 It only took them fifteen, short months upon joining Rain International to hit Diamond. Since then, they've had their sights set on Triple Black Rain Diamond. When asked about their philosophy, Mario said:
"You can only grow as a team if you have or create leadership within that team. So, in order for teams to grow, the people in those teams have to grow… A leader can only build a big team and reach a certain level if many others in his/her team succeed and grow.."
And they continue to grow, bringing family members, friends, and new acquaintances into their team and allowing them to grow. They've seen these team members benefit tremendously from Rain's seed-based products, watched as they gain financial freedom, and witnessed complete transformations. This, in large part, is not only what inspires them, but keeps them rooted in Rain.
Of the future, Mario said:
"We are still pioneering—most people don't know about Rain yet—and we know that partners who position themselves with Rain now will benefit enormously in the long run."
We look forward to reporting on this power couple when they hit Triple Black Rain Diamond.
About Rain International
Rain International is the original creator of seed-based nutrition. Our experts have gone to the source of plant nutrition to formulate products proven to support healthy lives.
Rain International is more than the products we sell. From the beginning, we set out to make changes to improve the world around us starting with the health industry and moving beyond its borders into global sustainability, education initiatives, elevated lifestyles, and more. We believe that the ultimate human experience we all crave is within everyone's reach, and we don't mind leading the way. For more info please visit www.rainintl.com.
Recommended Distributors Rain International