MLM Leader Corine Goldman From France Joins QuiAri
May 6, 2020
By Team Business For Home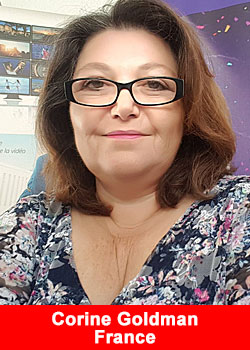 Corine Goldman, from Marseille, France, often wonders what her life might have been like if she had discovered the network marketing industry when she was younger.
At the age of 18, Corine joined her family's manufacturing business. She left the house at 7 AM and worked until 9 PM every night. What little free time she had quickly slipped away. By 1991, she was a single mother raising two boys, ages 3 and 6, and still working long hours.
"I have many regrets from that time in my life. I wish I could have stayed home with my children more. Fortunately I had good childcare providers to help me, but even when I was able to spend time with the kids, I was exhausted. I discovered the network marketing industry after the kids were older, and it changed my life,"
stated QuiAri Promoter Corine Goldman.
In 2012, she was getting by as a Freelance Commercial Director, living on the beautiful island of Mauritius. With hopes to supplement her income, she joined a web-based travel agency MLM company. Although she enjoyed being her own boss and having more free time, her heart wasn't in it. Then, on January 1st, 2019  she reconnected with Promoter Desire Nongol who introduced her to QuiAri.
"I was so excited about the opportunity that I quit my job as a Community Manager to focus 100% on QuiAri. Health and wellness is very important to me. I have a chronic condition that limits my ability to exercise, so I'm always looking for products that can help me feel better. When I tried QuiAri samples, I immediately realized just how special these products really were." 
Corine lost over 15 pounds taking the 90-Day Kickstart Challenge. This was a breakthrough moment for her. In the last 14 years she has tried many weight loss products and nothing seemed to work.
"I didn't expect to start feeling better so early into the 90-Day Kickstart Challenge. I noticed I could last all day without coffee or soda without being hungry or tired. I have two dogs that I can now take on long walks along the pristine creeks of Marseilles.

It's been 15 years since I've had the confidence to do that. I've read the testimonials and I'm not special or unique. A lot of people are taking the Challenge and experiencing similar results. That's why I decided to become a Promoter. I believe in the company, the mission, and the plan Bob Reina has for the future of QuiAri," stated Corine Goldman.
The CEO and Founder of QuiAri, Bob Reina, is working 24/7 to make QuiAri the #1 health and weight loss movement in the world. QuiAri products are shipped to six continents in 50 countries around the world, and there are currently 12 international-based offices in various stages of development. It has been his mission to get QuiAri products into the hands of anyone looking for better health and wealth.
"I'm excited about everything we have accomplished in just 7 months, but the best is yet to come. I see Promoters like Corine Goldman in France that are passionate about sharing Kickstart Challenge products with others and it inspires me to work even harder.

From new international office locations to exclusive, state-of-the-art technology, I've provided Promoters with more resources than any other MLM company. But that's why we've grown at such a rapid pace. We value people over profit,"
said CEO and Founder, Bob Reina.
Known as one of the most innovative brands in the direct sales space, QuiAri offers technology and products the world has never seen before, like Same Day Pay, that's commissions paid within 5 minutes after each sale. No other company in the industry pays their team that quickly. Also, QuiAri Shake and QuiAri Energy products include a proprietary extract called, MaquiX®. The maqui berry is new #1 superfruit, boasting extreme antioxidant power. An extract developed by the world's #1 maqui berry expert, Dr. Juan Hancke called  MaquiX® boosts the natural power of the maqui berry ten times. 
With sales exploding worldwide, Corine is ready for a long future with QuiAri and is planning a life-changing move to the United States.
"It has always been a dream of mine to live in the U.S. and I would love to be closer to QuiAri's Corporate Office In Tampa, Florida. There is so much I have learned from the executive leaders living thousands of miles away via live opportunity presentations and from exclusive training broadcasts hosted by Bob Reina. We are all in a unique situation where the QuiAri leadership team is accessible and willing to share their secrets to success. I encourage all of my new Promoters to stay plugged in because this simply does not happen at other companies,"
said Corine Goldman. 
While Corine doesn't have a move date in mind, she's happily  promoting the 90-Day Kickstart Challenge from her home in France and spending downtime with her family and two dogs.
"Health is so important to me and I love helping people from all walks of life. It took me a long time to find my dream company, but I finally did. I can't imagine working anywhere else."
About QuiAri
QuiAri provides life-changing opportunities that empower people to feel their best so they can live their best. Their breakthrough health and wellness products are made from an exclusive extract of the maqui berry, the world's new number 1 superfruit. Plus, QuiAri offers opportunities to receive Same Day Pay just by sharing their products with others. Try. Love. Share!
To learn more about QuiAri, or to get in touch with a Promoter, visit QuiAri.com.
These statements have not been evaluated by the Food and Drug Administration. These products are not intended to diagnose, treat, cure or prevent any disease.
Income Disclosure Statement
Please note the QuiAri business opportunity offers unlimited income potential. However, QuiAri makes no guarantee of financial success. Success with QuiAri results only from successful sales efforts, which require hard work, diligence, skill, persistence, competence, and leadership. Your income will depend upon how well you exercise these qualities.
 As QuiAri is in its first year of business operations, we do not have sufficient statistical data to prepare complete, first-year income disclosures. A more detailed survey will be conducted after our first year of business. If income projections were presented to you prior to your enrollment, such projections are not representative of the income, if any, that you can or will earn through your participation in the QuiAri Compensation Plan.
Recommended Distributors QuiAri