Start-Up Velovita Is Gaining Momentum Fast
May 28, 2020
By Team Business For Home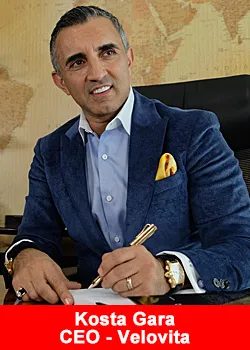 Velovita's Dream Team
What would normally take a company 9 – 12 months to create, Velovita's global team worked around the clock to build a first-class enterprise in just months.
Not only are the Founders, Kosta Gara, and Jeff Mack, industry legends with decades of combined experience, but they're also backed up by hand-picked, corporate executives that have over 40 years of collective industry experience – both in the direct sales and corporate business models.
"If our team doesn't outsmart you, they will definitely outwork you! And if they can't outwork you, they'll win through sheer devotion to do so."
Said Founder and CEO, Kosta Gara.
Through his experience, Mr. Gara, understands the value of a compensation plan and its factor in becoming successful in a company.
"Compensation has to cater to everyone, from the masses to the classes." 
Many companies outsource their services and, in this day and age, it's very seldom that you'll find a company that has a Rockstar in-house team that is fully devoted to one company. Because this company was founded with the field in mind, each department is dedicated to ensuring that the Member has all the tools they need readily available to them in order to build their business efficiently, even if they aren't tech-savvy.
Because they wanted to bridge the gap between network marketing and e-commerce, Velovita is the first hybrid business model with a full-on dedicated social media team that focuses heavily on social selling and community alignment through inspiration and support. Even before they launched, they had ongoing weekly business training sessions direct from the Global Master Distributors to the President, cheering them on and walking them through each step of the business.
Velvovita understands the requirements to go big and go global. That's why they came straight out of the gate with two languages including translation for every single piece of marketing collateral they have.
While most companies provide limited customer service, their enthusiastic Customer Service team is available for Customers and Members not 40 hours a week, but rather 68 hours a week, providing concierge-level customer service with availability on weekends.
A back-office dream comes true! Their next-gen V-Cloud is secure, stable, and scalable for their future growth with international capabilities, data-rich analytics, and forecasting tools. This allows their Members to monitor and receive tangible Velovita results by reducing operational expenses, increasing automation, and employing marketing strategy growth through their metrics.
Another unique benefit is that they own their world-class fulfillment center located in their Miami headquarters, allowing them the ability to ship their flagship nootropic with substantial savings for their Members and Customers. Velovita is currently working on a third language/country that's set to launch this summer and their US Members are even more elated that they're able to have a global business so soon!
About VELOVITA
Founded on 90+ years of operational and field success, VELOVITA is set to become a global leader of innovation in the field of nanoceuticals, community expansion, support, social selling, and education for the new world entrepreneur. Their mission is to provide an ecosystem of inspiration, education, and life enrichment. Velovita has a singular focus on the individual to increase their daily performance both mentally and physically.
We have been thriving by creating one of the most unique e-commerce businesses out there for anyone who still has a dream in them!
For more information on VELOVITA, please visit Velovita.com or Velovita's Facebook page. You may also contact us at [email protected]. To join the new movement, click here for the Velovita Member Rewards. We know you'll #LOVIT!
Recommended Distributors Velovita