TruVison Health Rebrands As Truvy
May 22, 2020
By Team Business For Home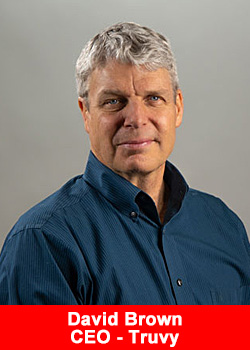 The new way to spell TruVision Health® is Truvy™.
This rebrand comes at just the right time as the company is experiencing record breaking sales, month over month. The company expects that this rebrand will propel that momentum on through the summer months leading into their truSUMMIT Global Convention in August 2020.
The company announced today that they have rebranded to Truvy™ (pronounced: true-vee) but that the heart of the company will "remain the same". This is a much needed "makeover" for the future of Truvy. The name Truvy retains the beloved "Tru" part of the previous brand, but is softened, and shortened with the added "vy" (meaning to compete). It's softer, hipper and a whole lot easier to remember than TruVision Health®.
The new name gives direction to the long term plan moving forward. Truvy is refocusing its attention on the origination of the company, overall health and weight loss.
"We're just getting back to the basics. Our product selection, company strategy, and overall, the heart of the company, will remain largely the same, with a few additional elements."
said Co-Founder Dave Brown.
This comprehensive rebrand includes new product names, logos, brand colors, and mission, which is to be 'your friendly weight loss side-kick'. The new look gives more clarity, character, and a way to clearly stand out from the competition as one of the leaders in weight loss and overall wellness.
Truvy will continue to offer their premier weight loss products such as their world-famous weight loss combo truFIX® and truCONTROL® . New additions to the Truvy product line include an enhanced version of the truFIX formula (called Tru™) and a new flagship weight loss product Vy™ (pronounced Vee).
Vy™ is a powerhouse product packed with ingredients that can make you feel more naturally energized, optimize body fat and suppress your appetite without feeling starved. Truvy emphasizes that consistency is key and their products aren't meant to replace the need for a healthy lifestyle, but to amplify, and support it.
"The future is bright at Truvy and we couldn't be more thrilled. We expect this rebrand to happen over the span of a few months, all leading up to our truSUMMIT Convention in Atlanta, GA, in August 2020."
stated Co-Founder Shawn Gibson.
About Truvy
Truvy is becoming the global leader in premium health products. Beginning with the companies flag ship products designed to support and maintain healthy blood chemistry, TruVision Health is committed to designing cutting edge products that are effective. TruVision is becoming a world leader for premium health products.
To participate in TruVisions global product sampling experience please send an email to support(at)truvisionhealth(dot)com and you will be connected with a local Associate in your area.
For those living in the United States and wanting to learn more about TruVision Healths full line of products visit www.Truvy.com.
Recommended Distributors Truvy