Team USA Field Hockey Player, Will Holt, Becomes Global Brand Ambassador For Touchstone Essentials
May 15, 2020
By Team Business For Home
Ever since Will Holt was a boy, he dreamt of representing the United States and competing in the Olympic Games. He uses Touchstone Essentials' products every day to fuel his lifelong dream.
"In 1996 I watched the Olympic games with my dad on the couch and from that moment, it became all I ever wanted to do,"
says Will.
 Since his debut for the USA Men's National Field Hockey Team in 2007, Will Holt has competed in several international tournaments including the FIH Series Finals, World Hockey League, and multiple Pan American Championships just to name a few. He's emerged as a commanding offensive player, scoring 85 goals in 146 international appearances.
When he's not playing for the national team, Will is coaching alongside two-time Olympian, Kayla Bashore at Indiana University.
"I love being able to play for the national team, so being able to coach and still compete in Olympic qualifiers was the perfect opportunity for me. I've played for the national team for about 13 years and competing in the Olympics is still my ultimate goal."
Of course, playing and training for so many years at an elite level does take a toll on the body. Will has had several injuries over the course of his career.
"I've had hip surgeries, neck surgery and a herniated disc in my lower back so a lot of my career has revolved around recovery nutrition. That's why I like being able to be part of Touchstone Essentials. I depend on their products to fuel mobility and flexibility."
Will is pleased with the high quality of the products and says he relies on all of them as part of a complete program.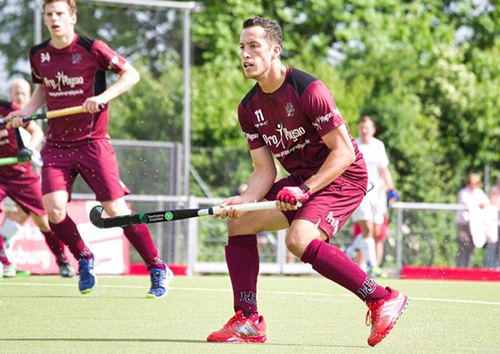 "I use all of the products daily. I like to take my Essentials and Wellspring in the mornings with my breakfast. If I don't add some of the Super Organic Protein to my oatmeal, I always have it in my post training shakes – along with the Super Green Juice. I actually crave the flavor on a regular basis."

"When it comes to aches and stiffness, the Soothe Topical CBD Balm is a daily staple. My dad uses it too. Getting into the CBD space was a great decision for them, and their ingredients and processes make their CBD products truly superior to anything you'll find."
In addition to the products, Will says he loves the relationship he has built with the Touchstone Essentials team.
"I remember being in the car on the phone with Eddie years ago," Will says. "Hearing him talk about his vision of the company and how he had hoped it would evolve was inspiring. Looking at the company now, I think it far exceeds what we all had originally imagined, and I'm proud to be affiliated with them."
Touchstone Essentials was founded in 2012 by 30-year industry veteran, Eddie Stone, with a vision of organic goodness accessible to everyone. They ship to over 60 countries around the world. Touchstone Essentials has been experiencing double-digit growth over the past 3 years and with the launch of the organic CBD hemp oil line, things have started reaching critical mass.
They describe themselves as proud rebels with a cause, offering products for Daily Detox, Organic Superfoods, and CBD. When you join as a VBO, you become a visionary business owner. As a VBO, you're the CEO of your own empire, but you're not alone. Touchstone Essentials offers an advanced digital marketing system with a trove of resources, all at no additional cost. This includes a TheGoodInside.com e-commerce site, blog, and e-newsletters, social media retargeting and more. For more information please visit www.thegoodinside.com