Donations Don't End With Just LifeVantage Legacy
June 17, 2020
By Team Business For Home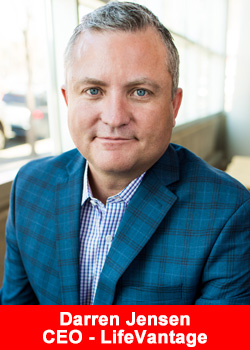 LifeVantage Legacy, the 501(c) non-profit arm of LifeVantage Corporation, is one reason many distributors sign on with LifeVantage. Their charity, humanitarian work trips, volunteers, and monetary donations internationally have served countless families, children and communities. On top of feeding thousands in Mexico, building over 30 homes, creating jobs, and applying hundreds of volunteers – the company has been ahead of the curve in improving communities for quite some time. 
With the recent rise of COVID-19, LifeVantage's immediate action was no different. LifeVantage was an early adopter of important safety policies to help minimize the potential negative effects of the pandemic on the company's business and its workforce. While simultaneously relocating their entire global workforce to be based in a work from home (WFH) format, the company knew they could do more in community outreach.
In partnering with the Utah Food Bank–LifeVantage was among the first to donate hand sanitizer to those in need. At the behest of CEO Darren Jensen, an associated co-packer based in Salt Lake City, UT, began work on production of over 10,000 units of a sanitizer. Making as much as possible, LifeVantage then donated all 10,000 bottles (each a 4 oz. bottle–40,000 oz. in total) to the Utah Food Bank.
At the same time, LifeVantage Legacy continued helping the community it has worked in each year during the Christmas holiday in Puerto Penasco, Mexico. As this local community was placed on lockdown, the families who have worked side by side with LifeVantage Legacy volunteers for the past 7 years found themselves without the means to feed their families.  LifeVantage Legacy quickly sent $10,000 to provide meals for 200 families and help this community during this difficult time.
LifeVantage is also paying attention to its Distributors–who are finding more and more promotions, bonuses, and prizes being funneled back to them in the wake of this recent recession. The company is also currently knee deep in developing new promotions, and even rolling out an enhanced Worldwide LifeVantage Compensation plan to better harmonize the plan across all 16 markets, promoting more consistent growth.
The development of a new app also brings new initiatives like their "Daily Bonus" program (a method of calculating sales commissions daily and notifying Distributors about their earnings the following day with payout within three business days).
While the pandemic has caused many companies to cancel or postpone events, LifeVantage has taken to the web. Virtual webinars and meetings hosted by the company offer free classes, seminars, and gatherings to educate, gather, and speak with their distributor base on a personal level. LifeVantage has made its message loud and clear, as CSO Justin Rose stated,
"…the effort always has been, and always will be that our distributors are family, and that family comes first."
And their actions reflect that–corporate donations, Non-profit charitable giving, and redistribution of success back to their base.
About LifeVantage
LifeVantage Corporation (Nasdaq: LFVN) is a pioneer in Nutrigenomics – a new science dedicated to biohacking the human aging code. The Company engages in the identification, research, development, and distribution of advanced nutrigenomic dietary supplements and skin and hair care products, including its scientifically-validated Protandim® product line, Omega+ and ProBio dietary supplements, its TrueScience® line of Nrf2-infused skin and hair care products, Petandim™ for Dogs, Axio® Smart Energy Drink mixes, and the PhysIQ™ Smart Weight Management System.
LifeVantage was founded in 2003 and is headquartered in Salt Lake City, Utah. For more information, visit www.lifevantage.com.
Recommended Distributors LifeVantage