Juuva Is Growing Fast
June 11, 2020
By Team Business For Home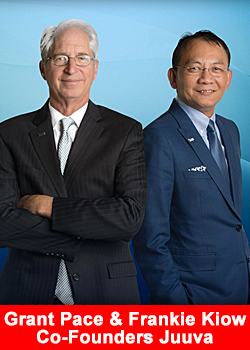 Top leader Jeff Bracken explains why the company is growing fast:
"Seven years ago two highly successful founders — one from the west (USA), one from the east (Hong Kong and Shanghai), came together to create a legacy company from the start"
Grant Pace: Chairman and CEO of Juuva, President Shaklee, President NuSkin, V.P. Sara Lee Direct Sales, President Avon Pacific, Bain, Harvard MBA, Lawyer.
Frankie Kiow:  Founder Juuva, President Longrich, President Joymain, President NuSkin China, President Sara Lee China, Sr. V.P. AMC, Managing Director Electrolux China.  Named among Most Influential Contributors to Direct Selling in China.
This extensive industry experience led Juuva to seek solutions to the historic conflicts and  to deliver on the highest promises of the networking industry.
"Distributor Loyalty must be earned."
Distributor and Management conflicts can only be avoided when both are working for the same end. That is why Juuva has reserved 30% of Juuva Shares to be owned by Distributors. What's your checklist for the company you want to build your future with?
Here is ours:
Financially sound and debt free. No lawsuits. No governmental actions or warnings.
Optimal timing. A company that is beyond the risk of a start-up, but not yet in momentum. Juuva is post risk . . . pre momentum.
Generous Compensation. Early income AND wealth creation.  A minimum payout promise of 50% of product point value . . . every week.
World Class products . . . chosen with the distributor in mind . . . easy to sell. Demonstrable. Priced to support resalable value. Exclusive, with a commitment to continuous improvement.
Successful Management. Trust those who have built successfully in our industry again and again and again.
A proven training system:  Distributors are best trained by successful distributors, not by corporate employees.  Meet Summit Success, the all-distributor run system where best practices and tools are shared by the best with all the rest.
Distributor Focused. It is obviously working.  Distributors on the Board of Directors. Fairness for all. Value driven decision making.
Juuva will confidentially calculate the financial difference Juuva can make for you 🙂
About Juuva
At Juuva, we know the recipe for a company that lasts, and we're using it to transform lives every day. Juuva was built from the ground up to do things the right way—with integrity, passion and a distributor-focused mindset.
We pay a guaranteed 50% of PV to Distributors weekly. We want our Distributors to be successful because we know they are the key to our mutual success.
Our two co-founders, Grant Pace and Frankie Kiow, possess a wealth of industry experience and expertise and our entire executive team boasts more than 200 years of successful experience with the network marketing space. These individuals set the strategic direction for our company and they will do whatever it takes to provide the finest network marketing opportunity. For more information please visit www.juuva.com
Recommended Distributors Juuva