MLM Top Leader Ken Stewart Joins QuiAri
June 17, 2020
By Team Business For Home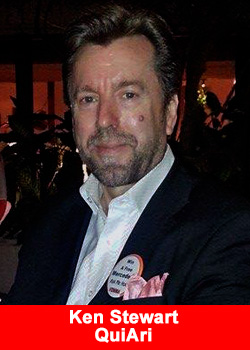 Ken Stewart, an internationally recognized industry leader with over 38 years of experience, has recently added his name to the growing list of top direct selling professionals joining QuiAri.
Nicknamed the "MLM Professor," Ken was one of the early pioneers of the binary pay plan concept in the early 1990s and one of a select group of people inducted into the prestigious Academy of MLM.
"I moved from Texas to Nairobi, Kenya in late 2009 and have been focused primarily on introducing new and exciting opportunities to Kenya's rapidly growing market. QuiAri is no doubt positioned to be the #1 opportunity in Africa and #1 in the health and wellness industry.

We are the first to introduce the maqui berry, the world's new #1 superfruit, to the global market. The first companies to take aloe vera, noni, acai, and mangosteen globally generated over $1 billion in sales over a short period of time. I'm confident history will repeat itself, so that's why I was eager to join the business, "
stated QuiAri Promoter, Ken Stewart.
Although QuiAri is only 8 months old, Founder and CEO, Bob Reina, has aggressive global expansion plans, especially in Africa. Ken is helping QuiAri become the first company in history to open offices that are fully registered, established, and staffed in 7 African countries at the same time. Kenya, Tanzania, Uganda, South Africa, Rwanda, Ghana and Nigeria are part of QuiAri's first phase with more in consideration for a phase 2 rollout.
"I'm happy to have Ken leading the charge in Kenya and helping us make MLM history once again. QuiAri already has the fastest payout with Same Day Pay, the fastest cycling binary, and one of the highest paying compensation plans in the industry.

QuiAri is on track to become the fastest growing company in the MLM industry. The great news is, we have all the resources to support our growth. In addition to expansion in Africa, we are planting roots in over 33 countries throughout Europe and India, and already have offices open around the world,"
said Founder and CEO, Bob Reina.
QuiAri's industry-first "Same Day Pay" is fueling growth by giving it a competitive advantage in Kenya as well as worldwide. No other health and wellness company in the industry pays commissions within 5 minutes after each sale. Using state-of-the-art technology, Promoters that download the free QuiAri mobile app are alerted in real-time with an exciting "cha-ching" sound once Same Day Pay commissions have been paid.
"Most people in Africa have cell phones and mobile payment accounts rather than traditional bank accounts. QuiAri's innovative technology allows Promoters to run their business entirely through their smart phone. Commissions and bonuses earned are loaded from an e-wallet to their bank account or to an exclusive QuiAri-branded Visa debit card,"
stated Ken Stewart.
Kenyans could not be more enthusiastic about QuiAri's proprietary products – QuiAri Shake and QuiAri Energy. The 90-Day Kickstart Challenge has become one of the most popular ways for people to lose weight and gain energy. The simplicity of the Kickstart Challenge is appealing to people who are always on the go. It's an easy-to-follow 2-step process that involves drinking a delicious QuiAri Shake and taking 1 to 2 QuiAri Energy tablets once a day. QuiAri's social media is flooded with countless testimonials from people all over the world that are living happier, healthier lives.
"QuiAri is already considered to be a success throughout Africa, but Bob isn't one to stop while he's ahead. All Promoters are eager for Bob's latest innovation to be released.  It is a Free Marketing Tour System, which is an automated tool to help generate and follow up with leads 24/7, 365 days a year," said Ken Stewart.
From cutting-edge technology to never before seen products to a leadership team with over 150 years of combined MLM experience, QuiAri is on the fast track to becoming the next multi-billion dollar company. Ken is more than ready to help make it happen.
"QuiAri gives you everything you need to be successful. This is unlike any other opportunity in the industry. Whether you're new to the business or an industry veteran like myself, QuiAri is a company where you will always feel appreciated and be rewarded for your efforts. If you want to live the dream lifestyle, this is the best opportunity to make it happen," said Ken Stewart.
About QuiAri
QuiAri provides life-changing opportunities that empower people to feel their best so they can live their best. Their breakthrough health and wellness products are made from an exclusive extract of the maqui berry, the world's new number 1 superfruit. Plus, QuiAri offers opportunities to receive Same Day Pay just by sharing their products with others. Try. Love. Share!
To learn more about QuiAri, or to get in touch with a Promoter, visit QuiAri.com.
These statements have not been evaluated by the Food and Drug Administration. These products are not intended to diagnose, treat, cure or prevent any disease.
Income Disclosure Statement
Please note the QuiAri business opportunity offers unlimited income potential. However, QuiAri makes no guarantee of financial success. Success with QuiAri results only from successful sales efforts, which require hard work, diligence, skill, persistence, competence, and leadership. Your income will depend upon how well you exercise these qualities.
 As QuiAri is in its first year of business operations, we do not have sufficient statistical data to prepare complete, first-year income disclosures. A more detailed survey will be conducted after our first year of business. If income projections were presented to you prior to your enrollment, such projections are not representative of the income, if any, that you can or will earn through your participation in the QuiAri Compensation Plan.
Recommended Distributors QuiAri