Nina Salkic Rain Diamond Leader In Eastern Europe
June 9, 2020
By Team Business For Home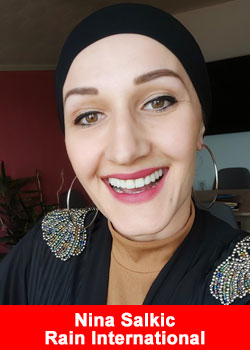 Nina Salkic from Bosnia and Herzegovina, has created an entirely new meaning for the term "determined woman."
She began her journey at Rain in 2016, and was primarily and exclusively interested in the products. However, as her testimony of the effectiveness of the products she was taking grew, so did her desire to share them. So, she became a Rain Partner.
Since the country in which she resided was not open to Rain, she had to journey to Slovenia to pick up the product, then attempt to share it with those around her. In 2018, she narrowed her focus and began team building, but this was a difficult time to grow.
Finally, in August of 2019, her country opened, and she quickly began rising through the ranks, hitting Platinum in January, Pearl in October, then Sapphire in December. After countless hours of hard work, she hit Diamond in February 2020.
Of Nina Salkic, Russ Cowley, Vice President of Rain International said:
"there are people who are inspirational in the way that they speak. There are those who are inspirational in the way that they live. Nina happens to encapsulate both. Her inspirational nature is infectious, and seems to stimulate success in all those around her."
Nina's story is both inspiring and empowering. She was a stay-at-home mom who had raised a family of four children while attaining two university degrees that had remained unemployed. Finding an opportunity at Rain to improve her health, enhance her financial situation, while being able to remain at home was too good to pass up. Now, as she grows and expands her team, she's set a new goal: to give this same opportunity to women living in and around her market, allowing them the chance to grow financially stable while working from home and raising a family.
Byron Belka, President and CEO of Rain International, has also felt inspired by Nina's story:
"I feel that if we are attracting women like Nina, we're doing something right." Nina continues to work hard, growing her team. She says that the things most important to her are the "science, uniqueness, versatility and universality of the products. Outstanding partner and customer support. Availability of information. The accuracy of the commission's arrival along with an extraordinary, versatile compensation plan." We can't wait to watch as she brings Rain International's products and opportunity to others, especially women, in her market.
About Rain International
Rain International is the original creator of seed-based nutrition. Our experts have gone to the source of plant nutrition to formulate products proven to support healthy lives.
Rain International is more than the products we sell. From the beginning, we set out to make changes to improve the world around us starting with the health industry and moving beyond its borders into global sustainability, education initiatives, elevated lifestyles, and more. We believe that the ultimate human experience we all crave is within everyone's reach, and we don't mind leading the way. For more info please visit www.rainintl.com.
Recommended Distributors Rain International