Thomas Drohmann Achieves Ambassador Rank At Enhanzz Global
June 8, 2020
By Team Business For Home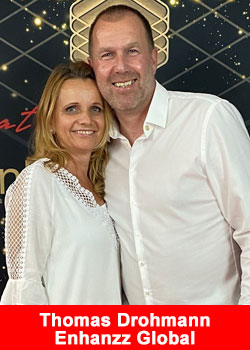 Having started in Network Marketing back in 1992 together with Dr. Sven Goebel, Thomas Drohmann has also built a business life as an entrepreneur outside of network marketing, before he re-joined the industry back two years ago as the very first distributor of Enhanzz Global.
Over the past two years, he has accumulated millions in volume and thousands of brand partners in his organizations.
In May, Thomas has reached the elite rank of Executive Ambassador, which is the first of three pinnacle ranks within Enhanzz Globals Compensation Plan.
CEO Dr. Sven Goebel stated:
We at Enhanzz are very excited that Thomas has reached the elite rank of Executive Ambassador. This is the first of our three pinnacle ranks within our Compensation Plan and Thomas has indeed built a powerful team that developed some massive momentum.

It's not going to take long for him to reach the very top rank and I bet he might reach that goal this year. We appreciate Thomas dedication and commitment for our opportunity, thank him for his leadership and salute him for his achievements.
Because of Covid-19, Enhanzz Global turned their June launch convention into a stellar online Show which was held June 5, where Thomas received his recognition at Enhanzz Globals HQ in Alpnach in a wonderful studio-set up.
For the recognition, the management had invited Thomas Drohmann and his downline Ambassador Roland Labs as VIP's to attend the event live at the companies HQ in Switzerland.
The show was broadcasted into hundreds of private homes and multiple micro-events, where teams gathered at various places with up to 10 people to celebrate the evening – all across Europe. It's been a stellar show with lots of technical details, and while the motto was "dress up in white", the energy was utmost high amongst all attendees although virtual.
About HANZZ+HEIDII
The exclusive HANZZ+HEIDII natural vegan skincare line for "HIM" and "HER", is a cutting edge, active symbiosis between nature and biotechnology, including its proprietary "Magic Swiss Code" formula, and its "Made Without" referring to its commitment that all products are non-animal tested and free of any harmful irritants and additives.
Currently, there are 9 products available for "HER" including a cleanser, serum and day/night cream; 4 for "HIM" also featuring a cleanser and serum  plus 1 unisex facial mask. For more information please visit www.hanzzandheidii.com,  www.enhanzz.com and www.woobyenhanzz.com