AIM Global Celebrates Its 14th Anniversary Virtually, Gains Over 3 Million Engagements, 1.7 Million Views
July 4, 2020
By Team Business For Home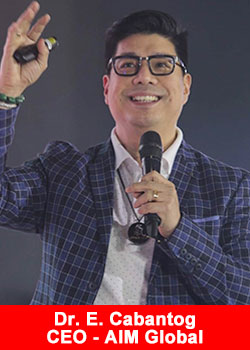 AIM Global prides itself for being a reputable company in the industry with a solid base of independent distributors spread across the globe. Traditionally, it holds big events such as Rallies for the Anniversary and Recognition of distributors and other awarding events in big venues to accommodate thousands of its distributors.
In fact, over the last five years, AIM Global has consistently celebrated its Anniversary Rally in the world's biggest indoor arena — The Philippine Arena. The events have always been packed with over 50,000 excited distributors, guests, and international delegates from 60 countries.
AIM Global celebrates its anniversary in May of each year — but this year is different. As the world was gripped with the Covid-19 pandemic, there was a dramatic change in the way businesses were conducted – including the MLM/Direct Sales Industry. With governments scrambling to contain the spread of the virus, there were several safety measures that the world needed to adapt to- including social distancing and the prohibition of gatherings.
Thus, this new normal resulted in empty streets and malls, closed restaurants, seminar rooms and event venues, which directly affected MLM/Direct Sales companies in conducting their business presentations and company events. The daunting challenge then for every MLM/Direct Sales company was how to adapt to this new condition and how to provide business continuity plans and strategies for its distributors amidst the pandemic, including sales rallies.
https://www.facebook.com/story.php?story_fbid=270520874266296&id=179221735462276
VP for Business Development Mr. Jurgen Gonzales said,
"AIM Global's strategy is simple- be adaptable and resilient in these trying times." He added that "since almost every distributor in the industry shifted to online, digital and social media marketing, the company has started developing a plan since the last week of May to push through with the celebration of its 14th anniversary. This time, it would be a virtual event — the first in the company's unique history where it harnessed the power of technology and maximized the use of social media as its platform"
The Planning
The team involved started in planning and meeting up to get the pieces together. Faced with so many limitations from event venues, technological limitations, to limited manpower because of social distancing, the team was up for the big challenge to successfully execute an unparalleled event on a global magnitude. Bearing in mind that it will also be the first company in the industry to celebrate its anniversary virtually through Facebook live streaming, AIM Global is set to create yet again another milestone.
This year's theme is INDOMITABLE SPIRIT- to represent the formidable character of AIM Global's distributors and to also show the kind of spirit one must possess in the middle of the crisis. After just a few weeks of preparation, planning, and campaign, the big day finally came on June 28, 2020 at 3:30pm, Philippine Time (GMT+8). The virtual event was viewed in more than 50 countries where AIM Global distributors are actively present, and the results are astonishing!
Setting yet Another Milestone
More than 1.7 million comments, 1.1 million views, 98,100 shares, 70,400 reactions and over 3.7 million organic Facebook engagements for one LIVE VIDEO CONTENT in 5 hours! This may well be another Guinness World Record if the current "record for the number of comments on a single Facebook item is 1,001,552. It is almost double the previous record and was set over the course of three months."- as quoted from a Google search article.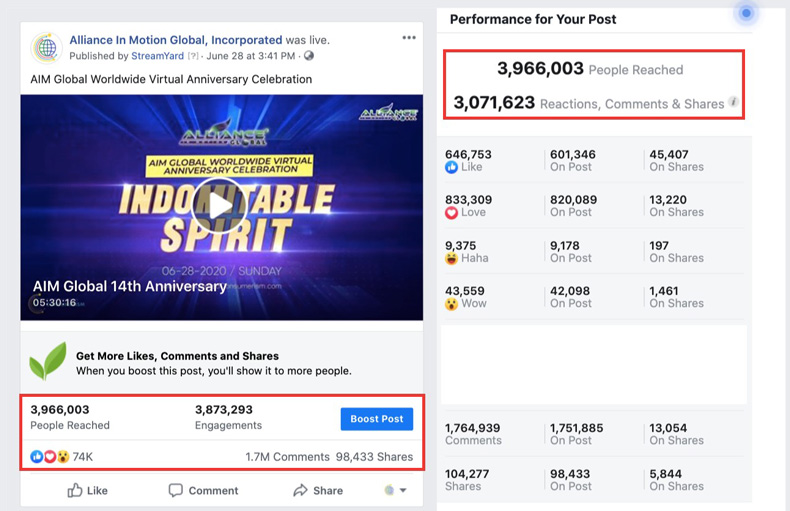 This data is yet to be verified by AIM Global's management as of writing, but one thing is certain- this is the first in the MLM industry! Yes, AIM Global created history once again, proving that with experience, foresight and innovative spirit, it can break barriers and set new trends in the industry.
The program started with pre-event production numbers rendered by its distributors from around the world while the number of live viewers mounted every second of the live streaming. The event was hosted by Vice Presidents Mr. Arnel Limpin and Mr. Jurgen Gonzales, together with the Training Team- Mr. Miko Imson, Mr. Adrian Del Rosario, Mr. Jayson Layno, Mr. John Gay and Mr. Ian Barcenas.
Comments, likes, and shares by the viewers rapidly increased as the program kicked off, showing that many viewers were actively engaged in the virtual event. See here the Facebook event.
Sharing Success Stories to People All Over the World
Part of the event was the virtual testimonies given by some of the company's top distributors including: Mr. Michael Okoli, a former banker, whose video was shown about his achievements as the Top 1 Distributor in Nigeria; Mr Elias Muhozi as the Top 1 Distributor in Uganda and the first-ever Ruby Global Ambassador in Africa- a highly coveted position in the company's marketing plan. Both were also interviewed live remotely during the streaming by the hosts.
Continuously Serving with Compassion in the Midst of Pandemic
Among the highlights that was shown was the company's outreach program, thru its ALIVE Foundation, where it has given away 10,000 relief packages for its distributors, employees and staff who were severely affected by the government's enhanced community quarantine of the entire country due to the Covid-19 outbreak. This effort themed as- WE HEAL AS ONE- was initiated by the foundation's chairperson, Dr. Connie Cabantog, and was widely supported by the distributors across the world with the outpour of cash donations thru the ALIVE COVID Fund Drive.
The fund drive gained an overwhelming traction since most leaders felt that it was the best time to share what they have, however big or small, given the impact of the country's lockdown to ordinary people.
The repacking of the relief goods was participated by the company's officers and staff for more than a week before it was distributed to its recipients
Highlights
The entire virtual anniversary celebration was indeed unprecedented in many parts, including;
1. the virtual launching of AIM Global's new product, C-Supreme, a form of Vitamin C that has 233% higher absorption and retention rate compared to other brands because of its Lipid Metabolites, as unveiled by the company's CEO and President Dr. Eduardo Cabantog.
C-Supreme is made with Pureway-C Antioxidant Super Nutrient, which has undergone Proprietary Micro-encapsulation technology to optimize long term stability and supreme efficiency.  C-Supreme has citrus bioflavonoids complex that protects the Vitamin C from oxidants in the body, while the proprietary fatty acid – Lipid Metabolites Formula allows ascorbic acid to enter cells more quickly in a safe and effective manner acting as ascorbic acid carriers to increase intestinal absorption and tissues distribution of Vitamin C and enhance cellular uptake kinetics.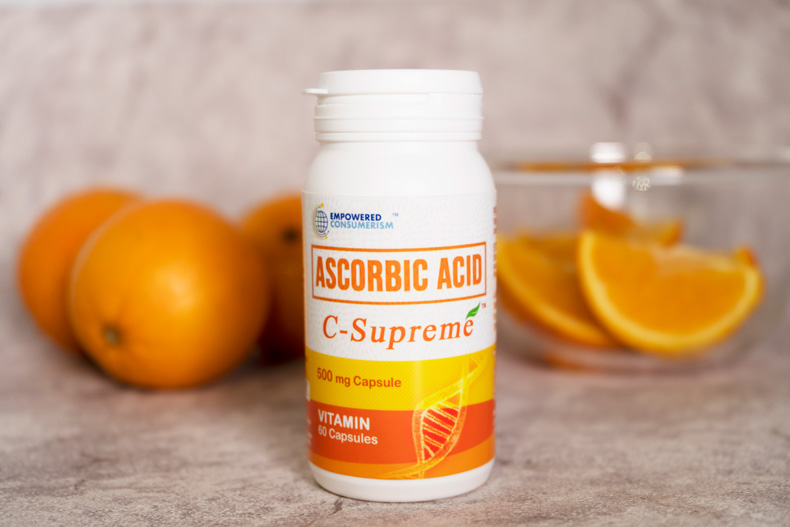 The virtual recognition of the 432 new members of the company's elite Millionaires' Circle and 311 new Global Ambassadors across the world.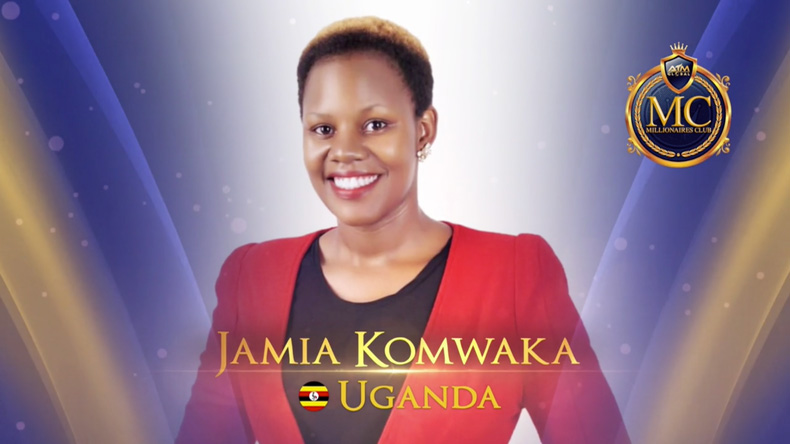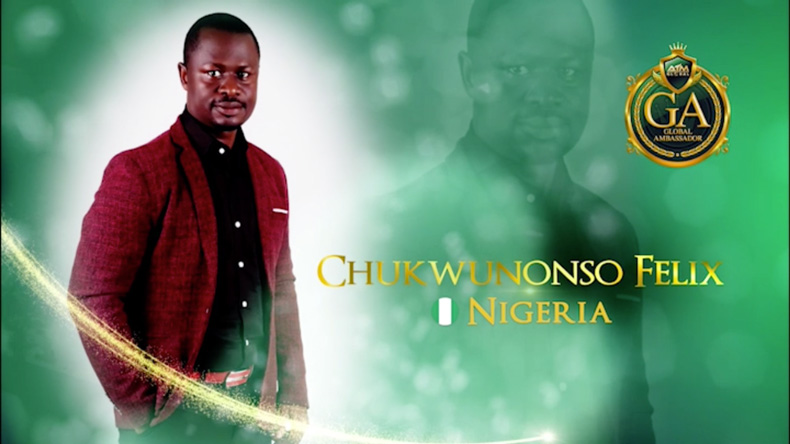 The virtual awarding of this year's new Ruby Global Ambassador Mr. Duncan Atukwase from Uganda, whose remote interview was streamed live during this part of the program.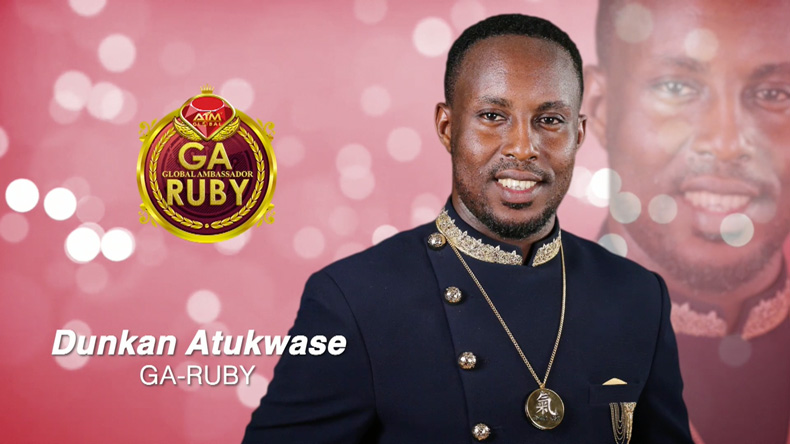 Finally, AIM Global's CEO/Visionary President Dr. Cabantog delivered an inspiring and reassuring speech,
"Our message for each and everyone of you watching all over the world- we may pause for a while, we may go offline every now and then, we may buffer in our connection from time to time but I tell you, we won't be stopping. We are here to support you, we're here to grow with you, we're here to still conquer the MLM/Direct Sales industry worldwide because we have the indomitable spirit ever since we started this company. God bless each and everyone! Happy 14th anniversary!"
Capping off the virtual event was a grand toast by AIM Global's executives and some members of the training team.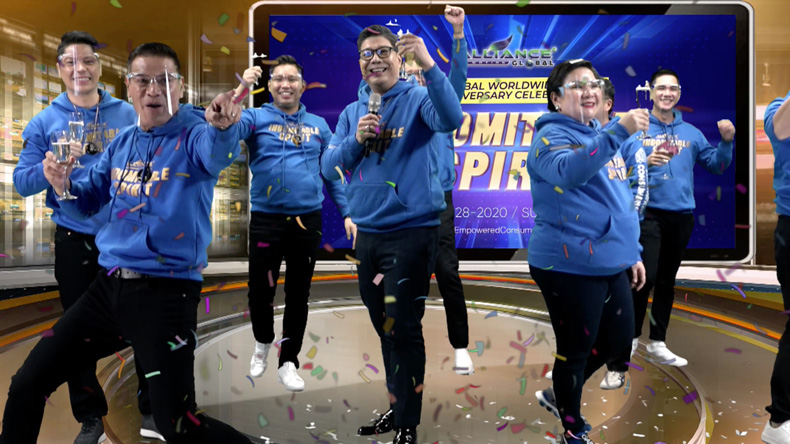 ABOUT AIM GLOBAL
Founded by Network Marketing icons Raymond "John" Asperin, Engr. Francis Miguel and Dr. Eduardo Cabantog in 2006, Alliance In Motion Global (AIM GLOBAL) is the leading direct sales network marketing company in the Philippines. The company markets and distributes top of the line Nutraceutical supplements, weight loss wellness products, personal care and skincare products, functional beverages and premium lifestyle products.
The company is a proud member of MLMIA (Multi-Level Marketing International Association) in USA, founding member of Direct Selling Association in Pakistan (DSAP) and Direct Selling Education Institute (DSEI) of Dubai, UAE.
AIM Global has 130 business center offices in the Philippines and has global offices in 20 countries namely Hong Kong, Singapore, Taiwan, Brunei, Papua New Guinea, UAE, Bahrain, Kuwait, Pakistan, Nigeria, Ghana, Kenya, Uganda, Togo, Ivory Coast, Cameroon, Tanzania, Rwanda, and the Solomon Islands.
AIM Global is categorized as "+AAA" business opportunity, Top 100 Solid MLM Direct Sales Company 2018-2019, Top 10 Momentum Direct Selling Companies 2018-2019, Top Direct Selling CEO 2014-2019, Founder/Director/CEO and Visionary President Dr. Eduardo Cabantog as one of the Ambassadors of Network Marketing – Hall of Fame 2018 by Business For Home, top awardee in the Direct Sales category of Asia Pacific Entrepreneurship Awards 2017, winner at the International Innovation Award 2018 for its revolutionary Daily Payout System, and one of the awardees for Asia's Best Performing Companies at the 6th Asia Corporate Excellence and Sustainability (ACES) Awards 2019.