Ananta Swathi Das From India Is Rising Fast At QuiAri
July 15, 2020
By Team Business For Home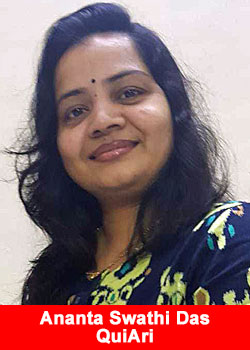 QuiAri Promoter Ananta Swathi Das, known as "Miss Swathi" by her friends and colleagues, is one of the leaders determined to take QuiAri all the way to #1. Miss Swathi is a health and wellness coach originally from Vijayawada, India.
She first heard about QuiAri from Promoter Balu Tiruveedhula. They had worked together in a previous multi-billion-dollar health and wellness company, but kept in touch. Balu had lost 19 pounds taking the 90-Day Kickstart Challenge and couldn't wait to share his success story.
"Balu loves to dance and is one of the most energetic people I know. When he told me all about QuiAri products and the opportunity, I started dancing too! The shakes were so good – rich and smooth with no chalky aftertaste, but the QuiAri Energy is my favorite! It just made me want to get up and move my feet.

Three months later, I have lost 26 pounds. I couldn't believe it. I started sharing QuiAri with all of my friends and earning commissions when they joined me on the Challenge,"
stated QuiAri Promoter Miss Swathi.
 When Founder and CEO, Bob Reina started QuiAri in October 2019, he had no doubt the company would grow to become the #1 home-based global business opportunity in the world.
"It all starts with having high quality products. QuiAri is the new #1 in the industry. We're consistently ranked at the top for momentum ranks, flavor, compensation plan benefits, payouts, global expansion – you name it. I appreciate Miss Swathi helping us pick up steam in India.

The best is yet to come. Our plans include all of Europe, Asia, India, Africa, and the U.S. Anybody that knows me in this industry, knows that I'm a man of my word and I'll do whatever it takes to support the global marketplace,"
stated Founder and CEO, Bob Reina.
Promoters certainly have not complained about QuiAri's jaw-dropping list of "industry-first" benefits that have helped them build their business faster. QuiAri is the first health and wellness company in the world to offer Same Day Pay, commissions paid just 5 minutes after every sale. They also have the fastest cycling binary and one of the highest paying compensation plans in the industry.
"Before joining QuiAri, I was at one of the biggest companies in the industry. I thought they had the best of everything – the best technology, the best compensation plan, the best people, etc. That's not true. QuiAri is superior in many ways. They operate like a multi-billion dollar brand,"
said Miss Swathi.
 Miss Swathi's QuiAri business has been stronger than ever. People have fully embraced the 90-Day Kickstart Challenge, an easy-to-follow 2 step process that involves drinking a chocolate or vanilla shake and taking 1-2 QuiAri Energy tablets.
"I'm a product of QuiAri. When I meet people and they see how energized and happy I am, they want to feel that way too. QuiAri makes single serve samples for anyone that just wants to try the product out to see how they feel. After the first day, they usually come back for more, then my phone goes cha-ching," said Miss Swathi.
 When a Promoter receives Same Day Pay, a cha-ching notification is sent to their phone. The money is automatically loaded in real time to their E-wallet or QuiAri-branded Visa debit card.
"This opportunity has been life-changing for both me and my team. It wasn't that long ago when I was a home maker and dreaming of being a successful, independent woman. Now I'm living comfortably and have an opportunity to earn unlimited income in Team Commissions. Joining QuiAri helped me improve my health and wealth. It was the best decision of my life,"
stated Miss Swathi.
About QuiAri
QuiAri is the #1 health and weight loss movement in the world today. Featuring exclusive,  breakthrough products (QuiAri Shake and QuiAri Energy) and a one-of-a-kind 90-Day Kickstart Challenge, people everywhere are losing weight, boosting their energy levels, and improving their health. What started as an idea has now become a worldwide phenomenon, gaining a passionate following in over 200 countries. But that's not all! We boast an exciting opportunity that pays people to promote the Challenge.
Featuring industry-first, state-of-the-art payment technology, Promoters can earn Same Day Pay – that's commissions paid within 5 minutes after every sale. Combining unrivaled products with the fastest payout, the fastest cycling binary, and one of the highest paying compensation plans in the industry, there's no doubt QuiAri is helping people live healthier, happier lives. To learn more, please visit quiari.com.
These statements have not been evaluated by the Food and Drug Administration. These products are not intended to diagnose, treat, cure or prevent any disease.
Income Disclosure Statement
Please note the QuiAri business opportunity offers unlimited income potential. However, QuiAri makes no guarantee of financial success. Success with QuiAri results only from successful sales efforts, which require hard work, diligence, skill, persistence, competence, and leadership. Your income will depend upon how well you exercise these qualities.
As QuiAri is in its first year of business operations, we do not have sufficient statistical data to prepare complete, first-year income disclosures. A more detailed survey will be conducted after our first year of business.
Recommended Distributors QuiAri