Frank Deng Joins Rain International Advisory Board
July 8, 2020
By Team Business For Home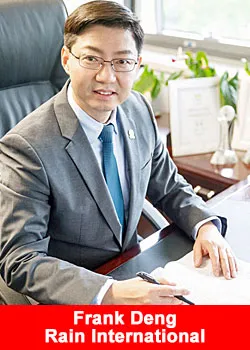 Rain International continues to bulk up its executive and scientific advisory team by adding another, seasoned member: Frank Deng.
He is a man of no small experience or reputation in the world of innovative industry, and has been an integral part in the creation and production of countless products. Frank received his Ph.D in Polymer Science and Engineering from the University of Massachusetts Lowell in 1998, and has been on the forefront of invention and innovation since then.
His research and findings have been published in dozens of scientific journals and publications. It is, perhaps, this research-centric approach that has allowed him to be a part of and lead countless entrepreneurial endeavours.
In fact, Frank has led/worked on more than 100 new product launches on global and local power-packed brands. These launches range into a plethora of different categories such as respiratory and allergy, pain management, GI, woman Health, TCM (traditional Chinese medicine), nutrition supplements, skin care products, personal care items, oral care, hair care and home care. It's this enormous range of experience and ability that has Rain's CEO and Founder, Byron Belka, so excited about the addition of Frank to their team:
"Frank adds a vision to our board that we haven't necessarily had before. His incredible combination of experience and dynamic, vertical thinking is something that will thrive here at Rain International. We're projecting that all future products created with his perspective will be both incredibly impactful and well-received throughout the world."
Frank Deng's has worked for different companies such as GE, the US Air Force on jet fuel cold flow additives, as well as GSK, a global health organization where he created the first, FDAapproved anti-viral mask.
Now, Frank is fully dedicated to putting all of his efforts into expanding the future of science and innovation of Seed-Based Nutritional products.
President of Rain International, Russ Cowley, said of this of Frank:
"We have some lofty goals as it relates to our science and the power of seed nutrition. And, in order to achieve those, we must add parts and pieces that make that possible. Frank is one such piece. Not a small, inconsequential piece either, but an integral, keystone."
There are good things happening at Rain International, and the addition of Frank Deng is evidence of that. We can't wait to see what new innovations they introduce to the world to disrupt the health industry.
About Rain International
Rain International is the original creator of seed-based nutrition. Our experts have gone to the source of plant nutrition to formulate products proven to support healthy lives.
Rain International is more than the products we sell. From the beginning, we set out to make changes to improve the world around us starting with the health industry and moving beyond its borders into global sustainability, education initiatives, elevated lifestyles, and more. We believe that the ultimate human experience we all crave is within everyone's reach, and we don't mind leading the way. For more info please visit www.rainintl.com.
Recommended Distributors Rain International