Guadeloupe Leader Ruddy Clodine-Florent Joins QuiAri
July 23, 2020
By Team Business For Home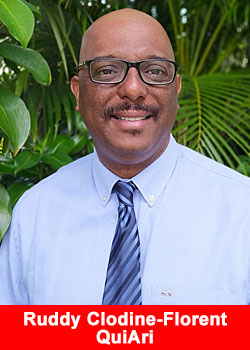 What happens when you combine a never-before seen product, a revolutionary compensation plan filled with industry-firsts, and a Founder and CEO with an unconventional strategy for global expansion? The answer: Success. QuiAri surprised the MLM industry in October 2019 by opening in over 200 countries worldwide on their first day. Now, 9 months later, we're seeing. Bob's decision to diversify his international growth pay off. QuiAri has shattered their first-year sales projections.
"I wanted to launch QuiAri products globally so that everyone had access to these amazing products and opportunity. We expected fast growth throughout major cities in Africa, India,  Asia, the U.S, but I was excited to see the smaller markets take off just as quickly, like Guadeloupe. Promoter Rudy Clodine-Florent and the rest of the team have proven that the size of your country does not correlate to the size of your sales. You can build your global network from anywhere on the planet, and that's exactly what Rudy is doing,"
stated QuiAri Founder and CEO, Bob Reina.
Rudy Clodine-Florent was born in Guadeloupe (the West French Indies) and has been a health and wellness entrepreneur for over 15 years. He currently works as a SPA Manager and QuiAri Promoter. When business started to slow, he looked for alternative ways to supplement his income.
"My friend, Promoter Desire Nongol, was aware of my situation, and he introduced me to QuiAri. The products were good, the Compensation Plan was very generous, so I jumped at the chance to join. I've had some MLM experience in the past, but it was nothing like QuiAri. I began promoting right away and soon built a global team and earned Same Day Pay every time someone purchased products,"
said QuiAri Promoter Rudy Clodine-Florent.
 While Rudy was busy promoting the 90-Day Kickstart Challenge, he decided to try it for himself. In the first week, he lost over 6 pounds.
"I enjoy QuiAri products because they help me feel less hungry and keep me awake and alert. I felt a rush of smooth, steady energy that lasted about 18 hours. I'm also very focused now on my work, and that's helping me become a more effective Promoter. My nickname is Ruddy "Super Rocket Man," because I'm so enthusiastic about QuiAri and my business is taking off," said Rudy Clodine-Florent.
 QuiAri has provided the perfect opportunity for Rudy to be an entrepreneur and still keep his day job. Every time Rudy shares QuiAri products with others, he earns Same Day Pay, that's commissions paid within 5 minutes of each sale. He can also earn Same Day Pay when one of their Personally Sponsored Promoters makes a sale.
"We believe our success comes from my love of helping others. Everyone should try these products for 90 days to see how it can help improve their health. We enjoy earning Same Day Pay, but at the end of the day, it's about doing your part to make the world a better place,"
said Rudy Clodine-Florent. 
Rudy describes his experience with QuiAri as "first class all the way." The free state-of-the-art technology and support provided to all Promoters has been beneficial to their QuiAri business.
"If QuiAri did not have their act together, I would not be able to promote QuiAri products internationally. I have access to live opportunity presentations in multiple languages, a Compensation Plan available in multiple languages, and a huge network of hard-working leaders with over 150+ years of industry experience eager to help me succeed. I love being part of the QuiAri family because Bob Reina and his amazing corporate team make it very easy for me to stay connected to one another,"
 The entire Guadeloupe Team has been motivated to take QuiAri all the way to number 1 in their home country. Rudy is inspired by the many QuiAri Promoters rising up the ranks all over the world.
"QuiAri's leaders are the best of the best. Promoters like Minh and Julie Ho, Rob Roder, Desire Nongol, and Anna Reda have been my inspiration for success. I'd like to be at their level, if not higher one day. At QuiAri, the opportunities are endless, and i plan to go all the way to the top,"
said Rudy Clodine-Florent.
About QuiAri
QuiAri is the #1 health and weight loss movement in the world today. Featuring exclusive,  breakthrough products (QuiAri Shake and QuiAri Energy) and a one-of-a-kind 90-Day Kickstart Challenge, people everywhere are losing weight, boosting their energy levels, and improving their health. What started as an idea has now become a worldwide phenomenon, gaining a passionate following in over 200 countries. But that's not all! We boast an exciting opportunity that pays people to promote the Challenge.
Featuring industry-first, state-of-the-art payment technology, Promoters can earn Same Day Pay – that's commissions paid within 5 minutes after every sale. Combining unrivaled products with the fastest payout, the fastest cycling binary, and one of the highest paying compensation plans in the industry, there's no doubt QuiAri is helping people live healthier, happier lives. To learn more, please visit quiari.com.
These statements have not been evaluated by the Food and Drug Administration. These products are not intended to diagnose, treat, cure or prevent any disease.
Income Disclosure Statement
Please note the QuiAri business opportunity offers unlimited income potential. However, QuiAri makes no guarantee of financial success. Success with QuiAri results only from successful sales efforts, which require hard work, diligence, skill, persistence, competence, and leadership. Your income will depend upon how well you exercise these qualities.
As QuiAri is in its first year of business operations, we do not have sufficient statistical data to prepare complete, first-year income disclosures. A more detailed survey will be conducted after our first year of business.
Recommended Distributors QuiAri