Laszlo Badar From Hungary Is Rain International Oldest Black Diamond
July 15, 2020
By Team Business For Home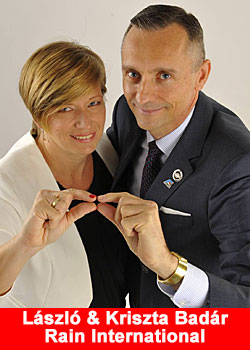 Laszlo Badar has been with Rain International since before it was Rain International.
In fact, when he joined back in August of 2010. It wasn't until 2011 that Byron Belka, who the current CEO, purchased the company and transformed it into the seed-powered powerhouse it is today. This makes him the oldest, active Rain Partner that Rain has. And, even through all of the changes and growing pains, Laszlo saw something special in this seed-based company.
In fact, this is what keeps him motivated. He said that it is the vision of Rain's bright future that inspires him to continue building his business, helping those around him, and to hit even higher ranks.
Of Laszlo Badar, Rain International's Founder Byron Belka said:
"Laszlo has always been a rock here at Rain International. The fact that he's been part of Rain International for so long is secondary to the part he's played in Rain International's success, especially in Europe. We owe so much growth and perspective to him and the team he's built."
Since joining Rain, Laszlo has built his team to thousands strong, and has watched, as they take advantage of Rain's opportunity, their health and financial situations improve drastically. He says that these changes, some monumental, some incremental, have allowed him to be a better person. And, it is in improving himself that he's able to improve the lives of others.
We spoke with Russ Cowley, Vice President of Rain International, about Laszlo Badar. He had nothing but good things to say about this European-based distributor:
"Laszlo has always been one of Rain International's key Rain Partners, but I think that's because of the attitude he carries. His positivity and beautiful outlook on life have led him to represent our Rain International name better than we could have imagined."
Mr. Badar says that he plans on hitting Double and Triple Black Rain Diamond in the near future as he looks to expand and grow his team with the same attitudes and guiding principles that have gotten him this far. We look forward to reporting on those momental rank advancements soon.
About Rain International
Rain International is the original creator of seed-based nutrition. Our experts have gone to the source of plant nutrition to formulate products proven to support healthy lives.
Rain International is more than the products we sell. From the beginning, we set out to make changes to improve the world around us starting with the health industry and moving beyond its borders into global sustainability, education initiatives, elevated lifestyles, and more. We believe that the ultimate human experience we all crave is within everyone's reach, and we don't mind leading the way. For more info please visit www.rainintl.com.
Recommended Distributors Rain International