Lauren York Is Rising Fast At QuiAri
July 8, 2020
By Team Business For Home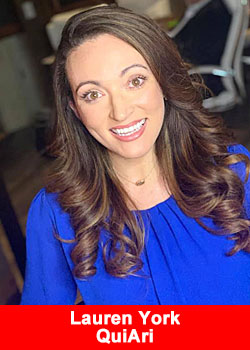 Lauren York is a young, ambitious Promoter from Florida who joined QuiAri with no direct sales experience. Now her QuiAri business has grown so large that she was able to quit her job and promote QuiAri full-time.
"I was working as a paralegal, unhappy with my career, and looking for a way to spend more time with my family.  I had just given birth to my daughter and I was desperately trying to lose the baby weight.

My co-worker recommended QuiAri products. I lost 37 pounds taking the 90-Day Kickstart Challenge and started telling all of my friends about it. Then I was introduced to the QuiAri Opportunity and my life really started to change,"
stated QuiAri Promoter, Lauren York.
 Her co-worker suggested Lauren switch from Customer to Promoter, which would allow her to earn Same Day Pay for each friend that joined her on the Kickstart Challenge. Lauren was paid her commission instantly – within 5 minutes after making the sale.
"I followed the instructions in QuiAri's Getting Started Guide. I started posting to my social media accounts about my weight loss. I also shared testimonials from QuiAri's social media page. Lots of my friends were interested and soon they started feeling better too.

Some of them had such a good experience that they became Promoters, and I earned Same Day Pay every time they made a sale. I was having fun, helping people, and earning extra money. I knew I had found my dream career,"
said Lauren York.
 Lauren wanted to see just how far she could take her QuiAri business. She began tapping into all of the resources available to her –  live daily opportunity presentations from experienced leaders in multiple languages, a state-of-the-art Back Office, a mobile app for promoting on the go, world-class marketing, and more. She started reaching out to friends of friends, hosting tasting parties, and passing out samples whenever she left the house. By June, she decided to quit her job at the law firm and commit to QuiAri full-time.
"I have more freedom, less stress, and am now able to financially provide for my family in ways I never thought possible. My goal for this year is to travel. I've never been outside of the United States, but I now have a lot of Promoters on my team that live overseas. My dream is to visit Africa, Europe, India, and Asia," 
QuiAri's Founder and CEO, Bob Reina is happy for all of Lauren's success and said it proves that MLM experience is not required to reach the top ranks.
"I started my MLM career as a Promoter with no sales experience. I struggled to balance my career as a law enforcement officer with learning how to be a top earner. I understand how intimidating the MLM industry can be, but our system is designed to relieve that pressure and  help people like Lauren achieve success faster.

That's what makes QuiAri unlike any other company out there. We pay fastest in the industry, we offer an incredible amount of support, and our products are #1 in the industry. Our Promoters start out with everything in their favor, "
stated Founder and CEO, Bob Reina.
Success in QuiAri is achieved by following 4 simple steps. Bob recently release QuiAri's "100K Playbook," exclusively for QuiAri Promoters. In addition to the 4 steps to success, the Playbook helps people get into the right mindset so they can achieve the rank of 100K or more.
"The 100K Playbook is for everybody, regardless of their past experience. You can learn how to turn a Prospect into a Promoter or Customer every time. And let me tell you something – it works! People from all over the world want to be part of QuiAri," said Lauren York.
QuiAri's global expansion has opened even more doors for Lauren.  She finds that, despite the different customs and cultures she's encountered, all Prospects are asking similar questions.
"The #1 question – 'Is Same Day Pay real?' followed by 'Can I do this?' The answer is YES to both. Who do you know that wants better health and an opportunity to earn more money? Pretty much everyone. This is a multi-billion dollar brand in the making. You don't need sales experience. Just follow the duplicatable system like I did and the results could be life-changing,"
said Lauren York.
About QuiAri
QuiAri is the #1 health and weight loss movement in the world today. Featuring exclusive,  breakthrough products (QuiAri Shake and QuiAri Energy) and a one-of-a-kind 90-Day Kickstart Challenge, people everywhere are losing weight, boosting their energy levels, and improving their health. What started as an idea has now become a worldwide phenomenon, gaining a passionate following in over 200 countries. But that's not all! We boast an exciting opportunity that pays people to promote the Challenge.
Featuring industry-first, state-of-the-art payment technology, Promoters can earn Same Day Pay – that's commissions paid within 5 minutes after every sale. Combining unrivaled products with the fastest payout, the fastest cycling binary, and one of the highest paying compensation plans in the industry, there's no doubt QuiAri is helping people live healthier, happier lives. To learn more, please visit quiari.com.
These statements have not been evaluated by the Food and Drug Administration. These products are not intended to diagnose, treat, cure or prevent any disease.
Income Disclosure Statement
Please note the QuiAri business opportunity offers unlimited income potential. However, QuiAri makes no guarantee of financial success. Success with QuiAri results only from successful sales efforts, which require hard work, diligence, skill, persistence, competence, and leadership. Your income will depend upon how well you exercise these qualities.
As QuiAri is in its first year of business operations, we do not have sufficient statistical data to prepare complete, first-year income disclosures. A more detailed survey will be conducted after our first year of business.
Recommended Distributors QuiAri