MLM Leaders Rymon And Lili Reyes Join QuiAri
July 1, 2020
By Team Business For Home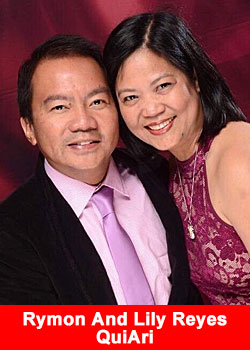 After just 9 months in business, QuiAri has become one of the most talked about global business opportunities in the MLM industry. With industry-first accomplishments such as fastest payouts, fastest cycling binary, and one of the highest paying compensation plans, the world's top entrepreneurs are sharing the QuiAri opportunity with their massive networks. That's exactly how Promoters Rymon and Lily Reyes, who are originally from the Philippines, discovered QuiAri.
"We were on vacation in Las Vegas celebrating our 25th wedding anniversary and we met up with some old friends –  100K Promoters, Minh and Julie Ho. They had just joined QuiAri and thought we might be interested. My wife and I are both RNs (Registered Nurses) living and working in Florida, but we're no strangers to the MLM world,"
stated Rymon and Lily Reyes.
 After getting involved with several very successful MLMs, and enjoying being among the top earners, they left the industry to become medical professionals.
"We love our jobs and we're good at it. We're living in Florida because Lily received a huge promotion, but we'd eventually like to retire in the Philippines. When Minh and Julie told us about QuiAri, we saw it as an opportunity to help people all over the world with an opportunity to reach our retirement goal even faster."
Being in the healthcare industry, Rymon was already aware of the benefits of maqui and was impressed that Founder and CEO, Bob Reina, found a way to boost the power of the berry with the help of Dr. Juan Hancke, the world's leading maqui berry scientist. The exclusive extract, called MaquiX®, cannot be found in any other product.
"When I first tried QuiAri Shake, it was like drinking a rich, smooth milkshake. Being in the healthcare industry, I'm very health-conscious and have never tasted anything like this before. I incorporated it into my diet immediately. But what I loved the most was QuiAri Energy. I work long shifts at the hospital. I took 2 tablets and felt mentally clear, alert, and ready to go. Now I can't imagine not having QuiAri Energy in my life."
 Founder and CEO, Bob Reina is happy to have Rymon and Lily on the QuiAri team and has the highest respect for their commitment to helping people improve their quality of life through both the MLM and medical industries.
"It means a lot to me to have Rymon and Lily on the QuiAri team.  Between nursing, building their QuiAri business, and spending time with their children, they have very little downtime. I admire their work ethic, but I'd like to help them enjoy a better work-life balance. Considering how successful our global expansion efforts have been, their dreams of retirement could come a lot sooner than expected,"
stated Founder and CEO, Bob Reina.
 The QuiAri opportunity and Same Day Pay have already started to change lives and not just for Rymon and Lily. After a Promoter shares QuiAri products and earns a commission, they are paid instantly – within 5 minutes. The money goes right into an E-wallet or on a QuiAri-branded Visa card.
 "QuiAri has provided a potential income stream for anyone willing to work hard, follow the duplicatable system Bob has created, and change the world. Recently, we've seen displaced people in the tourism industry, such as cruise ship workers and hotel employees joining QuiAri and thriving – even with no previous MLM experience,"
said Rymon and Lily Reyes.
 Bob Reina designed his company to be inclusive to all, regardless of their previous work history, education, or financial situation. A state-of-the-art Back Office, convenient mobile app, world-class marketing materials, and more are all free of charge to Promoters.
"I haven't known Bob for very long, but I had heard stories about his generosity even before I joined QuiAri. Now I'm experiencing it first-hand. Bob has given us everything we need to build a global brand all for FREE. Plus, Promoters are paid instantly with Same Day Pay, and we're getting a free tour marketing system soon that will help Promoters generate and manage leads.

We're having a lot of fun helping QuiAri grow. We love the company, we love Bob, and there is no doubt QuiAri is a billion-dollar-brand in the making. We are excited to see where this adventure takes us," said Rymon Reyes
"I second that. We spend all day taking care of other people in our jobs as nurses. It's nice to be at a company that takes care of us," said Lily Reyes.
 About QuiAri
QuiAri is the #1 health and weight loss movement in the world today. Featuring exclusive,  breakthrough products (QuiAri Shake and QuiAri Energy) and a one-of-a-kind 90-Day Kickstart Challenge, people everywhere are losing weight, boosting their energy levels, and improving their health. What started as an idea has now become a worldwide phenomenon, gaining a passionate following in over 200 countries. But that's not all! We boast an exciting opportunity that pays people to promote the Challenge.
Featuring industry-first, state-of-the-art payment technology, Promoters can earn Same Day Pay – that's commissions paid within 5 minutes after every sale. Combining unrivaled products with the fastest payout, the fastest cycling binary, and one of the highest paying compensation plans in the industry, there's no doubt QuiAri is helping people live healthier, happier lives. To learn more, please visit quiari.com.
These statements have not been evaluated by the Food and Drug Administration. These products are not intended to diagnose, treat, cure or prevent any disease.
Income Disclosure Statement
Please note the QuiAri business opportunity offers unlimited income potential. However, QuiAri makes no guarantee of financial success. Success with QuiAri results only from successful sales efforts, which require hard work, diligence, skill, persistence, competence, and leadership. Your income will depend upon how well you exercise these qualities.
As QuiAri is in its first year of business operations, we do not have sufficient statistical data to prepare complete, first-year income disclosures. A more detailed survey will be conducted after our first year of business.
Recommended Distributors QuiAri