Robyn Venter & Grace Higgins-Cole From Australia Achieve Elite Pro 7 Rank At LifeVantage
July 14, 2020
By Team Business For Home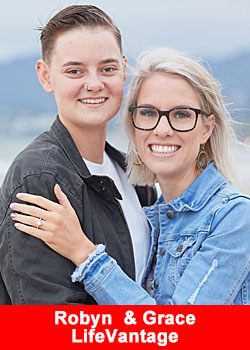 LifeVantage distributors Robyn Venter and Grace Higgins-Cole achieved the rank of Elite Pro 7 in May of this year. The couple, who live in Maroochydore, Queensland, Australia, are the youngest Elites in the company, an achievement earned by dedication and true passion for their work.
A true millennial couple, Grace asked Robyn out for coffee to meet in person for the first time after they became "friends" on Instagram. "We've been inseparable ever since," Grace said. They are currently engaged and hoping to have the big ceremony once gathering restrictions due to the COVID-19 pandemic are lifted.
Only a few weeks after they first met, Robyn told Grace about LifeVantage. Robyn's mum had recently started with the company, and Robyn saw that it could be the pathway to the kind of life she'd always envisioned for herself.
Robyn had originally dreamed of becoming a paramedic, but a severe back injury shortly before she went to university derailed her plans. She found herself in retail jobs that felt empty, so when she heard about LifeVantage, she was willing to give it a try.
Grace was incredibly skeptical, calling Protandim® "Dragon's blood." She is a registered nurse and wasn't sure she believed in the benefits of LifeVantage's products. But when Robyn brought Grace to an event and a man testified of his success with the company, she too was willing to give it a try.
When Grace saw firsthand how healthy and energized her best friend was after trying the Protandim® supplements she was fully convinced.**
Grace aspired to stability and flexibility for her family after watching her once single mother work extremely hard to give Grace the best life she could, and it became clear that LifeVantage could be the vehicle to help her achieve her financial goals.
Their path to success with LifeVantage hasn't always been smooth. Robyn's mother is highly ranked in the company, and it's sometimes assumed that Robyn and Grace have only gotten as far as they have because of their connection with her. Others doubt their abilities due to their youth. Sometimes they are stereotyped. "We're gay, Christian, network marketers," they laughed when describing their obstacles to success. Despite these roadblocks, the women continue to thrive in the company.
Their team members and leadership have become a chosen family for the couple. The relationships they have built and the support they receive from their LifeVantage family has helped to heal some of the scars of rejection Grace and Robyn have been dealt. 
In fact, the word "restore" encompasses the experience Robyn and Grace have had with LifeVantage. "I have a restored sense of purpose and belonging," Grace says. Robyn agrees. "It restored everything I thought I'd never have in my life."
About LifeVantage
LifeVantage Corporation (Nasdaq: LFVN) is a pioneer in Nutrigenomics – a new science dedicated to biohacking the human aging code. The Company engages in the identification, research, development, and distribution of advanced nutrigenomic dietary supplements and skin and hair care products, including its scientifically-validated Protandim® product line, Omega+ and ProBio dietary supplements, its TrueScience® line of Nrf2-infused skin and hair care products, Petandim® for Dogs, Axio® energy drink mixes, and the PhysIQ™ weight management system. LifeVantage was founded in 2003 and is headquartered in Salt Lake City, Utah. For more information, visit www.lifevantage.com.
*Distributor success depends on individual diligence, work effort, and market conditions. LifeVantage does not guarantee any income or rank success. For the company's Average Annual Earnings Disclosure by rank, visit lifevantage.com.
**This statement has not been evaluated by the Food and Drug Administration. This product is not intended to diagnose, treat, cure, or prevent any disease.
Recommended Distributors LifeVantage