Ronke Okafor From Nigeria Achieves Diamond Elite Rank At Rain International
July 10, 2020
By Team Business For Home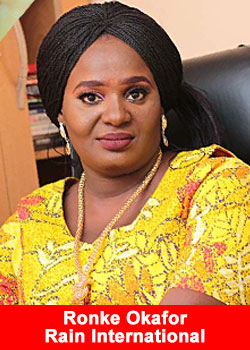 Ronke Okafor, a stay-at-home mom of three children, achieved the prestigious rank of Diamond Elite with Rain International. Her rise through the ranks, and her story, is inspirational – to say the least.
Born and raised in a loving, however not wealth family, she studied accounting at school. When she worked as an accountant during her one year industrial attachment, she realised it wasn't what she wanted to do.
Working nine to five, staring at computer screens all day, trying to balance the books and finding missing funds was just too boring. She started her own small business, and she soon enjoyed a fair share of success.
When she got married, however, she moved to another state, and then migrated out of Nigeria. Her business came apart, and she found herself as a full time housewife. She found it depressing to be financially dependent on her husband. She developed severe health problems – which would eventually lead to her losing her first pregnancy at 28 weeks. This devastating event would happen three more times before she was able to give birth to her first son.
Her health problems became worse – until she was able to find natural alternatives to the medication her doctor prescribed. Physically she became better, but she was still depressed. She hated being dependent on her husband for every penny.
About three years ago, her husband introduced her to Rain International. The opportunity allowed her to work from home while taking care of her kids and her health.
By the time her daughter was six weeks old, Ronke was making money while caring for her new-born child. In fact, she couldn't believe how much money she was making. All their disagreements about money went out the window, and she felt she had earned the respect of her husband.
Ronke believes that, despite life's challenges, everyone can thrive again.
She decided to build with rain full time and with full focus. She ended up paying off her debt much sooner than anticipated.
In the process her income grew, and she progressed through the ranks of the Rain MLM Company. At long last, she felt she wasn't dependent on her husband any more. In fact, it was quite the opposite. Her income had grown so much that she would be willing to provide financial support to him if he needed it.
Finally, she was able to live the life she wanted, providing for herself, her children and even her parents – without having to ask her husband for any money.
As an added bonus, as she rose through the ranks of Rain International, her bonuses included "all expenses paid" trips to fabulous destinations across the globe. She loves being able to explore the world with her husband.
About Rain International
Rain International is the original creator of seed-based nutrition. Our experts have gone to the source of plant nutrition to formulate products proven to support healthy lives.
Rain International is more than the products we sell. From the beginning, we set out to make changes to improve the world around us starting with the health industry and moving beyond its borders into global sustainability, education initiatives, elevated lifestyles, and more. We believe that the ultimate human experience we all crave is within everyone's reach, and we don't mind leading the way. For more info please visit www.rainintl.com.
Recommended Distributors Rain International